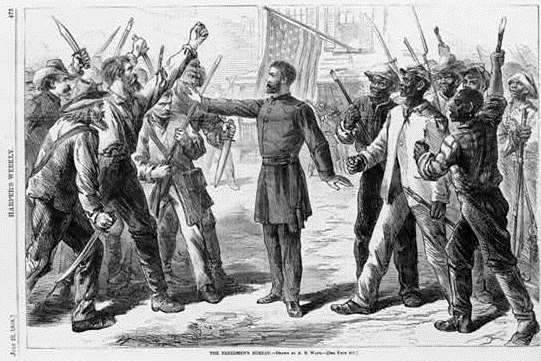 News Release Date:
April 6, 2015
Contact: John King, 304-535-6064
Saturday April 11, 2015, from 11am-4pm, visitors are invited to step back to the end of the Civil War in Harpers Ferry National Historical Park. Discover the numerous clashing opinions and divisive issues of this turbulent era as the Freedmen's Bureau officers implemented martial law in Harpers Ferry, often acting as a judge or jury for the civilians and soldiers of the town. Visit the Freedmen's Bureau military office exhibit to see how disputes over the rights of newly freed slaves were resolved. The bureau used military authority to establish schools or churches, open an employment office, legitimize marriages, pay bounties due to black soldiers for serving their country, and assisting to reunite families broken up by enslavement.  Bureau offices were established to referee the rights of newly freed slaves in states with southern sympathies, conflicting loyalties, and racial tensions.
After the Civil War ended, reconstruction of the South began. Freed slaves streamed into Harpers Ferry at the end of the war, seeking both protection from former masters and opportunities for starting a new life. Battered by the Civil War, the town struggled to support the influx in population. The federally established Freedmen's Bureau sent representatives to Harpers Ferry in order to assist former slaves and ensure their new rights as American citizens and help the community as a whole transition from a society of slavery to one of freedom and equality.