Fifteenth Annual Don Redman Jazz Heritage Awards & Concert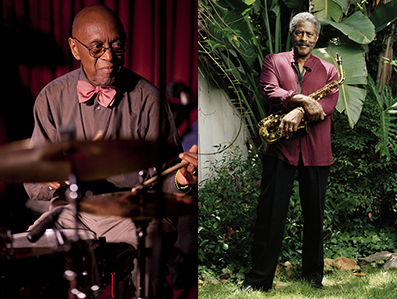 News Release Date:
June 10, 2016
Contact: Todd Bolton, 304-535-6026
 Harpers Ferry National Historical Park is pleased to announce that the 2016 Don Redman Jazz Heritage Awards & Concert will take place on Saturday, June 25, 2016 at 5:00 PM on the grounds of Mather Training Center. This year's honorees are alto saxophonist, Charles McPherson, and world renowned drummer Albert "Tootie" Heath. 
Charles McPherson remains a strong, viable force on the jazz scene today. Born in Joplin, Missouri, in 1939, he studied with the renowned pianist Barry Harris and started playing jazz professionally at age 19. He moved to New York in 1959 and performed with Charles Mingus from 1960 to 1972, as well as Lonnie Hillyer (trumpet), and George Coleman (tenor sax).
Mr. McPherson has performed at concerts and festivals with his own variety of groups, consisting of quartets, quintets to full orchestras. He has toured with his own group, as well as with jazz greats Lionel Hampton, Phil Woods, Wynton Marsalis, Dizzy Gillespie, and others. He was also the featured saxophonist in the 1988 Clint Eastwood film "Bird," a biography about Charlie Parker.
Albert "Tootie" Heath is one of the most accomplished jazz drummers of the past 60 years. Born in Philadelphia, Pennsylvania, Heath was raised in a musical household as the younger brother of saxophonist Jimmy and bassist Percy. Moving to New York in 1957, Heath soon made his recording debut with John Coltrane for the saxophonist's first recording "Coltrane". 
Mr. Heath's career reads like a who's who in jazz. He has recorded with such greats as Sonny Rollins, Nina Simone, Billy Taylor and others. In 1975, together with his brothers, "Tootie" Heath formed the Heath Brothers band. The band enjoyed international acclaim and although, Percy Heath passed away in 2005, the band still performs with various bassists.
The Redman awards are presented annually to jazz stalwarts based on contributions in jazz education and music, as well as individual musicianship, humanity and dignity that illuminate the spirit of Don Redman. 
Also this year, in conjunction with the Centennial of the National Park Service, Harpers Ferry will host the Don Redman Next Generation Jazz Academy during the week preceding the awards program and concert.  The academy will be comprised of a juried group of 11th and 12th grade jazz band students from the tri-state area.  The academy will be under the direction of 2011 Don Redman Jazz Heritage Award winner, Dr. Larry Ridley.  Ridley will conduct the academy scholars in an opening set prior to the awards ceremony and the performance by the honorees.
This free concert and awards program will begin at 5:00 PM on the grounds of Mather Training Center, at the former Storer College campus in Harpers Ferry. In case of inclement weather, the concert will take place in the Curtis-Freewill Baptist Church, located on the grounds of the Mather Training Center, Harpers Ferry. For more information, please contact 304-535-6298.
Last updated: June 15, 2016