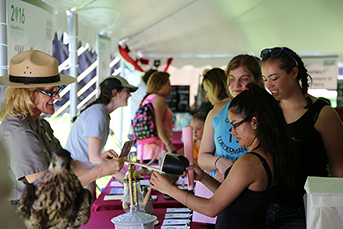 News Release Date:
September 14, 2015
Contact: Todd Bolton, 304-535-6026
Contact: Autumn Cook, 304-535-2908
Contact: Kim Biggs, 304-535-6024
Harpers Ferry National Historical Park invites the public to the "A Day in the Park" family event on Saturday September 26, 2015, from 10 am to 4 pm. This event on National Public Lands Day will give visitors the opportunity to enjoy Harpers Ferry while learning about how the National Park Service operates. This is an entrance fee free event.
Highlights of activities include:
Snap a photo at the retro ranger station
Smell and touch artifacts in a "Hands-On History" activity
Become a NPS Centennial Junior Ranger
Dress up as a ranger 
Have your photo taken with Buddy Bison
Play National Park Service Jeopardy
Paint or color your national parks
Learn about volunteer opportunities
Play "You're in Charge" and learn how to manage a national park
Get an inside look at a Law Enforcement patrol car
Discover the meaning behind the National Park Service's symbol, the arrowhead 
Dance the "BioBlitz Dance" to help spread the word about species counts
Watch as 3D models of museum artifacts are made and learn how the National Park Service cares for and preserves museum collections
Build a national park visitor center with blocks
Work at a real Information Desk to help other kids plan their visit
Learn about the "Every Kid in a Park" 4th grade program
The Harpers Ferry Historical Association (HFHA), a park partner, will host a book signing with authors, Michael B. Graham and Kevin R. Pawlak. Graham's book, On This Day in West Virginia Civil War History, highlights the rich Civil War history of the Mountain State. In Shepherdstown in the Civil War, Pawlak retraces the horrific accounts of Shepherdstown, West Virginia, as a Civil War hospital town. HFHA will also be located in the event tent with children's items, Junior Ranger apparel and games, and "Hike Harpers Ferry" t-shirts along with free "Hike Harpers Ferry" posters for cancellations. Take this opportunity to support Harpers Ferry National Historical Park by helping HFHA reach their goal of 100 new Association members by the National Park Service's 100th birthday on August 25, 2016.