Ribbon Cutting for Garnet Jex Paintings Exhibit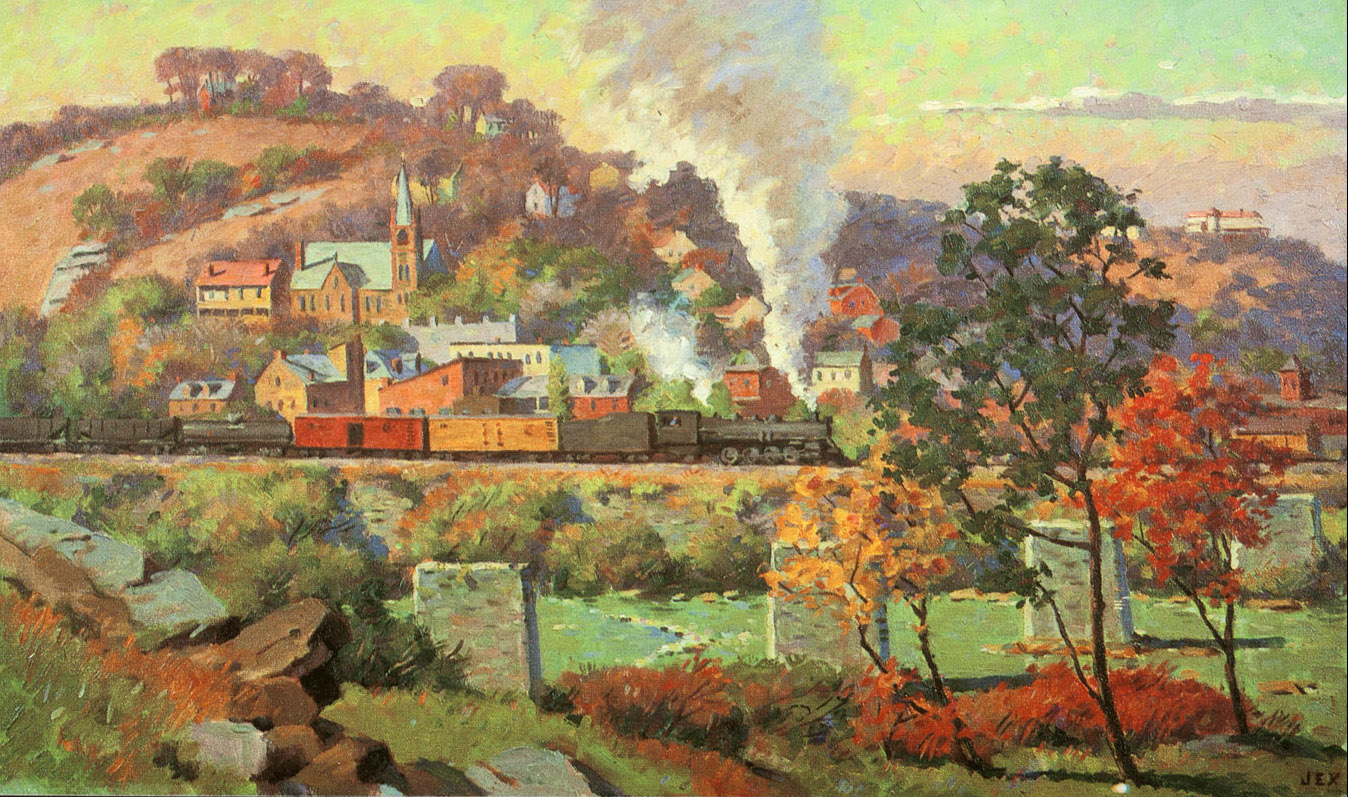 News Release Date:
May 5, 2016
On Saturday, May 7 at 10 a.m., Harpers Ferry National Historical Park will host a ribbon cutting for a new exhibit featuring 17 original Garnet Jex paintings of Harpers Ferry.
The ribbon cutting will occur in exhibition space on the second floor of the John Brown Museum on Shenandoah Street. The Jex paintings will be displayed in the national park for 18 months, and will be a feature of the National Park Service centennial celebration. Light refreshments will be served following the ribbon cutting.
In 1960 Washington, D.C. artist Garnet W. Jex (1895-1979) donated a collection of oil paintings depicting Harpers Ferry between 1925 and 1960 to the community. Jex visited the town frequently to paint the changing landscape of Harpers Ferry. An inscription with the collection reads in part: "Presented to the community by the artist in recollection of many pleasant days among charming streets and buildings, besides rivers and upon the hills; in appreciation also of the hospitality of townspeople." 
From 1960 to 2007 the paintings hung in the meeting room of the Camp Hill Wesley United Methodist Church. They've recently been exhibited at the Washington County Museum of Fine Arts in Hagerstown, MD, the Cliffside Inn in Harpers Ferry, and the Museum of the Shenandoah Valley in Winchester, VA.
Park Superintendent Rebecca Harriett will host the ribbon cutting and reception, and Debbie Piscitelli, executive director of the Harpers Ferry Historical Association and an expert on Jex, will deliver a brief program.
Postcards of the paintings (sold individually or as a set) are available at the Harpers Ferry National Historical Park Bookshop. 
Last updated: May 5, 2016