Be a Harpers Ferry BARK Ranger!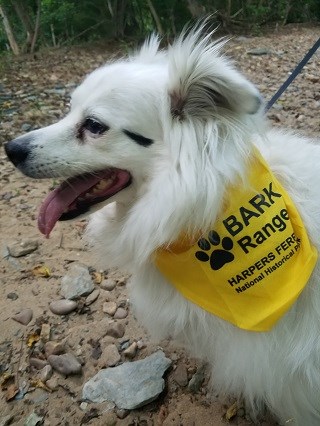 When you visit Harpers Ferry National Historical Park with your dog, remember to B.A.R.K.
Bag your pet's waste and take it to the nearest trash can.
Always leash your pet.
Respect wildlife.
Know where you can go.
The BARK Ranger Ambassador program at Harpers Ferry National Historical Park teaches pets and their owners the benefits of bringing their dog to the park, along with the rules they need to follow.
How does my dog become a Bark Ranger?
Pick up a pledge card from the Visitor Center or Information Center.
Dogs completing the short program will be sworn in as "Bark Rangers".
This program is free and all dogs are welcome to become Bark Rangers.
Bark Ranger bandanas, tags, and other merchandise can be purchased from the park's bookshop in Lower Town.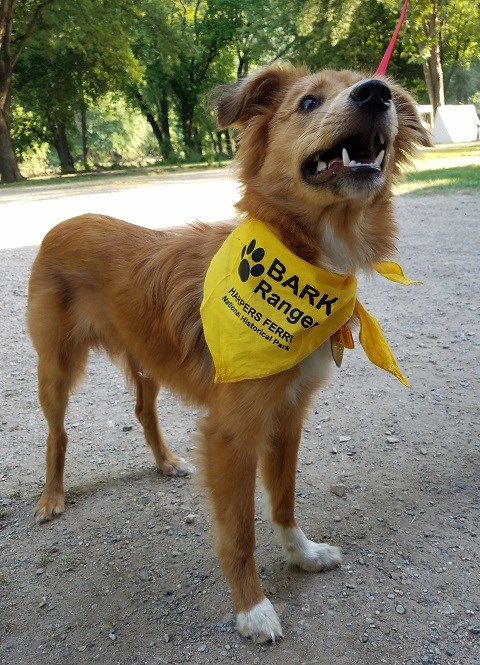 What is a Volunteer Bark Ranger Ambassador?
Volunteer Bark Rangers Ambassador duties include following park rules and serving as a good role model to other visitors, human and canine.
Contact us if you are interested in volunteering with your dog at the park.
Last updated: February 8, 2022