News Release
Firefighters Working to Suppress the Dog Fire
Date:
May 21, 2021
Contact:
Michael Haynie
, 915-828-3251 ext 2314
Acres: 500 Acres
Percent Containment: 0%
Start Date: May 11, 2021
Cause: Lightning / Natural
Origin Location: 34 mi SW of Whites City, NM
Jurisdiction: Guadalupe Mountains National Park
Fuels: Timber, with litter and grass understory
Personnel: 13 personnel
 
The Dog Fire, which started by lightning on May 11th, has increased over the past week to 500 acres. 
The Dog Fire is a full suppression fire.
Located in a remote and steep section of the Guadalupe Mountains National Park access and terrain is very challenging. The fire is burning within the Coyote Fire 2016 footprint. 
Firefighters are working to limit the fire's spread and protect values at risk where they can do so safely and effectively.
Today, crews will work to hold the west side of the fire along the Tejas Trail. Firefighters will be monitoring Smith Canyon and will take action to help limit fire spread in that area. On Wednesday, firefighters successfully conducted a burnout operation around the Bowl Cabin, a National Park Service backcountry cabin. Additional resources have been ordered and will be arriving today and into the weekend. 
Closures to the backcountry remain in effect
.
Trails starting at the Frijole Ranch and McKittrick Canyon trailheads are closed. The Frijole Ranch and McKittrick Canyon picnic areas are closed. Closed trails in the Pine Springs area include Tejas, Frijole/Foothills, and Bear Canyon Trails. Closed trails in the Dog Canyon area include the Tejas, Bush Mountain, and Marcus Trails. 
Wildfires are a No Drone Zone.
If you fly, we can't. Every time a drone is spotted near the fire all aircraft are grounded until we can be sure the drone is clear of this area. More Info visit
Know Before You Fly
,
http://knowbeforeyoufly.org
Fire Information:
(915) 236 - 1177
InciWeb:
https://inciweb.nwcg.gov/incident/7492/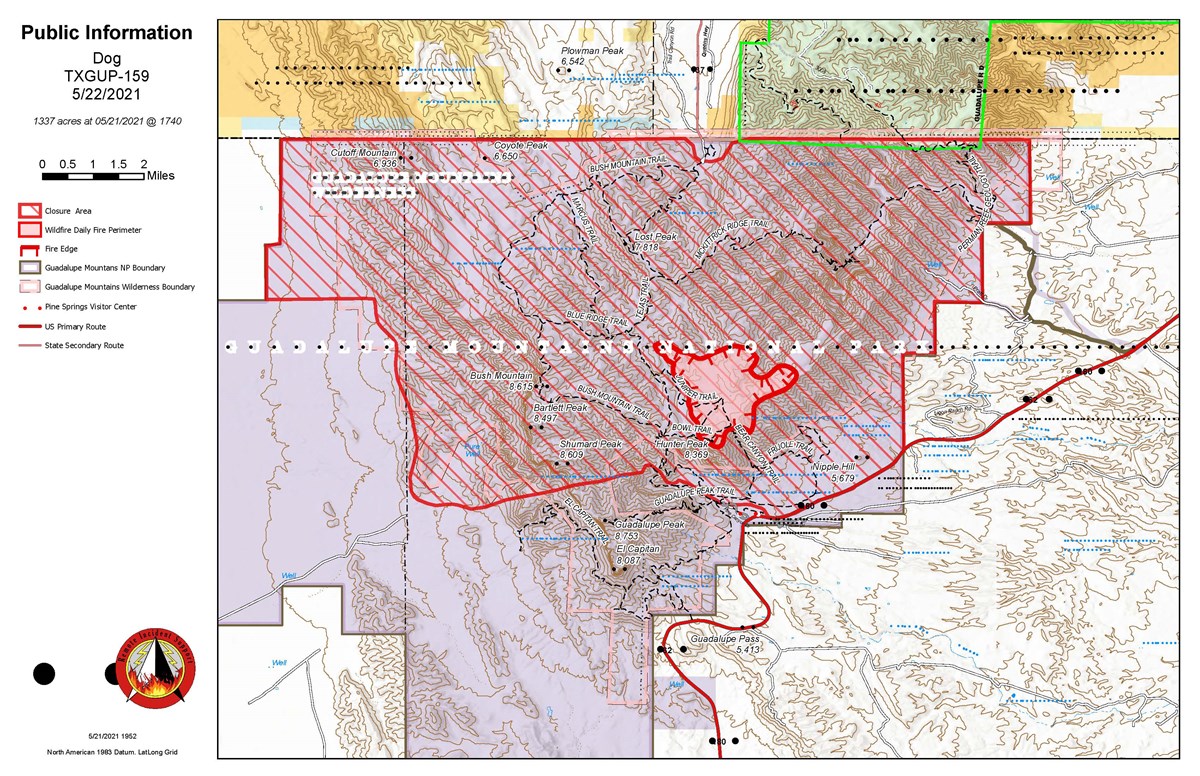 Last updated: May 22, 2021