Gros Ventre Roundabout
The Gros Ventre intersection on US Hwy 26/89/191 has an average daily traffic volume of approximately 14,200 vehicles and almost 200 bicycle riders during the summer season. Safety concerns have been identified at this location, and the Federal Highway Administration indicates that this type of intersection has the greatest safety risks of any type of intersection in the country. It is a high-speed, two-lane rural road with an unsignalled intersection.
Project Timeline and Construction Impacts
Construction began April 2. During construction, two-lane traffic will be open most of the time on the highway, except in certain instances for specific construction activities. Traffic delays are expected for the highway, Gros Ventre Road and Sagebrush Drive from early spring into the fall.
Travel Restrictions During Construction
Two lane travel lanes open most times on U.S. Highway 89; except in certain instances for specific construction activities

Beginning Late August 2018 - Vehicle traffic will be transitioning to a portion of the roundabout and left-hand turns onto and out of the Gros Ventre Road from the highway will be temporarily prohibited. Access to the Gros Ventre Road, including the community of Kelly and the Gros Ventre Campground, will only be available via a right turn from the highway once traffic has partial access to the roundabout. Highway traffic south bound wishing to access the Gros Ventre Road will be encouraged to travel Antelope Flats Road, or travel through the roundabout intersection and detour approximately two miles further south at the park entrance sign pull-through area to turn around. Highway signs will alert traffic to this temporary detour and alternate route. This right-turn only restriction will be removed once the entire roundabout is accessible to traffic by late September.

Fall 2018 - possible daytime closure of Gros Ventre Road from 9 am to 3 pm for approximately two weeks after September 15

Pathway closure from Elk Refuge to north of the Gros Ventre Junction through May 15, and for approximately two weeks in late September. Experienced pathway users may travel along U.S. Highway 26/89/191 on the road shoulder.
Construction Delays
From April 1 - November 30 US Highway 89 - north and south direction, Sagebrush Drive and Gros Ventre Road - west and east direction:
5 am to 8 pm 15 minute delays

8 pm to 5 am 30 minute delays
Project Timeline

Gros Ventre Junction Temporary Bypass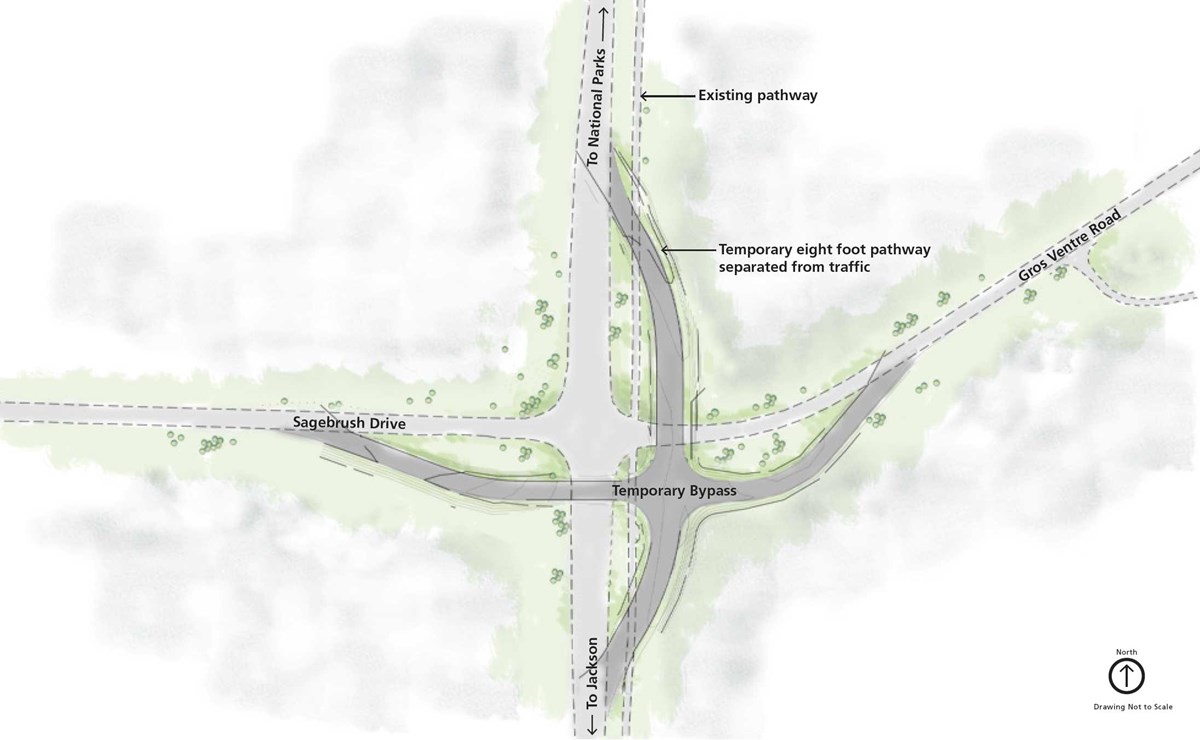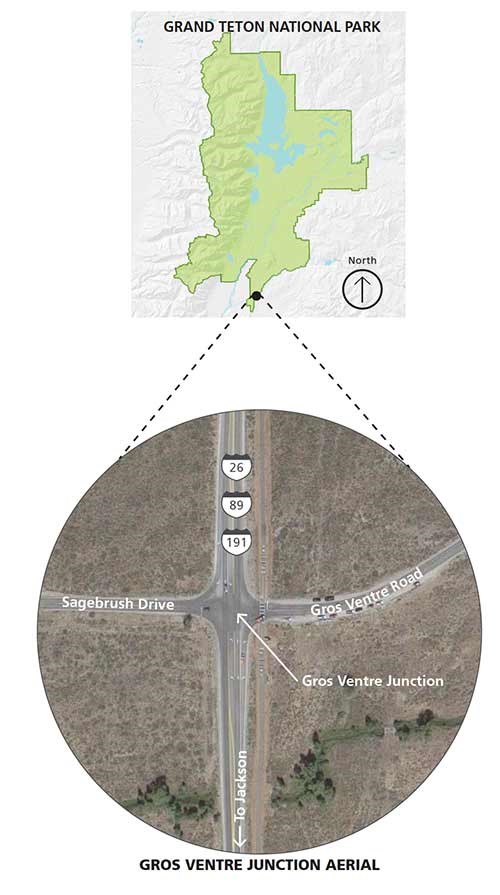 Safety Improvements
A roundabout is a circular roadway at an intersection designed to expedite the flow of vehicle traffic through an intersection and reduce accidents, as well as a reliable design to slow traffic through the area. It also provides an opportunity for pedestrians and bicyclists to navigate the intersection safely and efficiently.

GROS VENTRE JUNCTION AVERAGE DAILY TRAFFIC VOLUME
14,200 vehicles per day (2014 summer season)
Comparison, I-80 at Rock Springs - 18,000-19,000 vehicles per day
PATHWAY AVERAGE DAILY BICYCLE USE AT GROS VENTRE JUNCTION
190 bicycles per day (2014 summer season)
Gros Ventre Junction Roundabout - 2018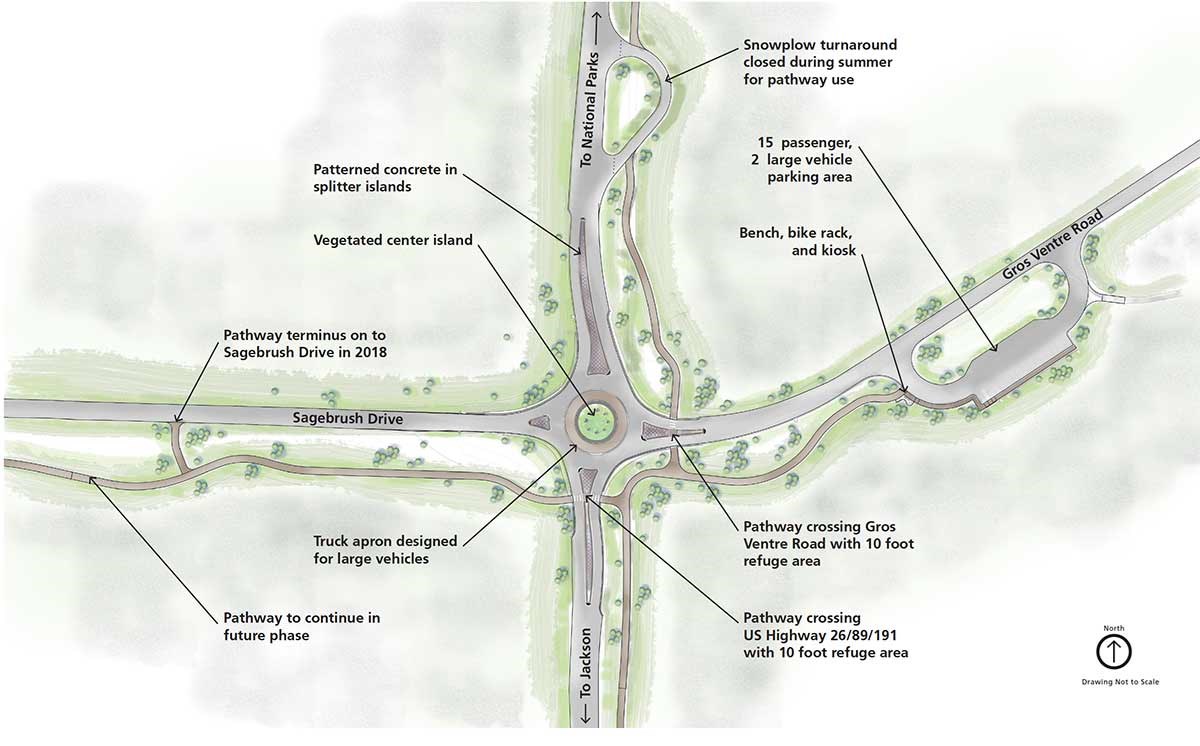 Safety Evaluation
NPS and FHWA, April 2015
Summary Findings: A roundabout will result in the best combination of improved safety for both vehicles and pathway users.

These safety risks include:
Cyclists crossing the highway with vehicles frequently exceeding the posted speed limit,

Pathway users often not observing traffic controls,

Poor sight distances, advanced warning signs and pavement markings,

Safety risks with left turns in the intersection from Gros Ventre Road and Sagebrush Drive,

Poor sight lines for vehicles turning or crossing the intersection from Gros Ventre Road and Sagebrush Drive,

Visibility of pathways users to drivers is often obstructed by parked vehicles,

Confusion of unfamiliar drivers at the intersection, and

High presence of wildlife crossing the road.
The National Park Service, in partnership with Federal Highways, Wyoming Department of Transportation and Teton County, conducted safety audits and analyses, and evaluated several alternative solutions to the issue. A roundabout was determined to be the best safety improvement for pathway users, highway users and wildlife, as well as the best balance of safety, protection of scenic views and cost. Other considerations included tunnels under the highway and Gros Ventre Road, bridge underpass with additional pathway, pedestrian bridge, overpass or underpass with on and off ramps, stop light, and activated pedestrian crossing.
Last updated: August 24, 2018