Moose-Wilson Road Temporarily Closed to Protect Bears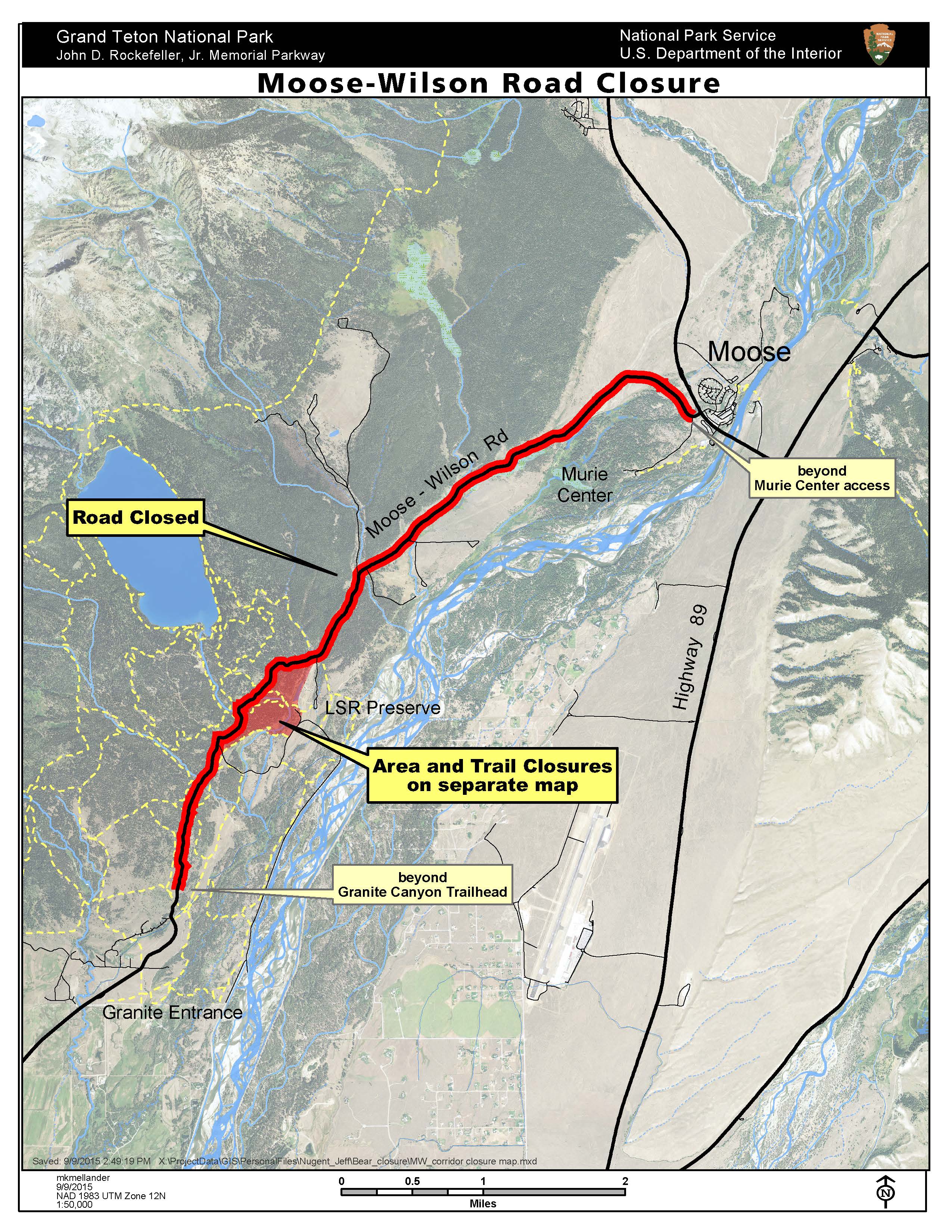 News Release Date:
September 9, 2015
Contact: Public Affairs Office, 307.739.3393
MOOSE, WY —Grand Teton National Park managers have initiated a temporary closure of the Moose-Wilson Road from the Murie Ranch Road Junction to the Granite Canyon Trailhead to protect numerous black bears that are feeding on hawthorn berries along the road. Managers will monitor the situation continuously and will re-open the road when conditions allow. Park visitors should call 307.739.3682 or visit
www.nps.gov/grte
and click on the "alerts" tab for updated information.
 This segment of the Moose-Wilson Road is closed to all visitors including motorists, cyclists, and hikers. There is also an area closure in effect including the Laurance S. Rockefeller Preserve east of the Moose-Wilson Road. Visitors will still be able to access the Granite Canyon Trailhead from the south via Highway 390. Visitors may access the Murie Ranch from the north. 
All backcountry trails west of the Moose-Wilson road will remain open. While there will be no access to the Death Canyon Trailhead for day users, backcountry users in possession of an overnight camping permit will be granted access to this trailhead. Horse trails in the area will not be affected by the temporary closure. 
Similar temporary closures of the Moose-Wilson Road have been periodically implemented since 2011during the fall berry season. During the fall, bears enter a period of hyperphagia as they build up fat reserves in preparation for denning. A below-average huckleberry crop this fall may be contributing to the bears' use of this area of the park, which is rich in berry-producing hawthorn bushes. While as many as eight black bears have been reported in the area, there have been no confirmed sightings of grizzly bears in the area at this time. 
This temporary closure is being implemented to allow bears to use this seasonally-important food source without disruption, and to provide for visitor safety. Because of its narrow surface lined with dense vegetation, hillsides, and wetlands, the Moose-Wilson Road does not allow for a safe distance between people and bears. These factors create situations where both visitors and bears may be at risk for injury, making it necessary to close the road whenever bears are foraging along the roadway. While park staff have managed many "bear jams" safely over the past two weeks, staff observed a significant increase in bear activity over the last 24 hours that necessitated the closure. 
To alert travelers of the road closure, signs are in place on Highway 390 and at the Murie Ranch Road Junction. The road condition information line, 307.739.3682, and the park website "alerts" tab at
www.nps.gov/grte
will be updated as conditions change. 
Rangers remind visitors to "Be Bear Aware," as these animals are active throughout Grand Teton National Park. Visitors are required to maintain a distance of at least 100 yards from bears. Individuals venturing into the park's backcountry should always carry bear spray, as well as make noise and travel in groups.
—NPS— 
Last updated: September 9, 2015