When Will It Snow?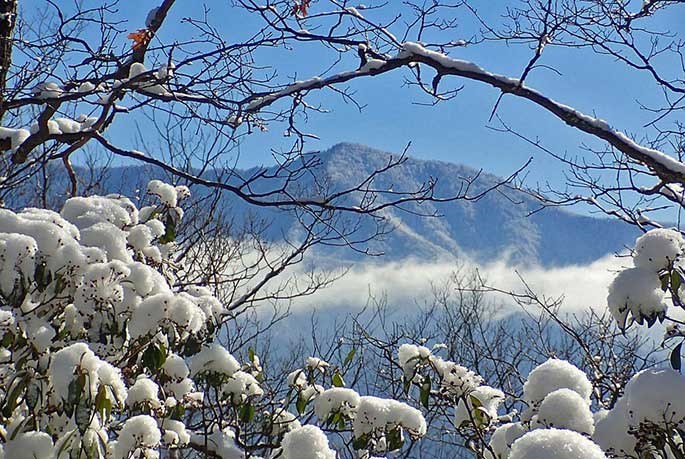 Winter is a fickle season in the Smokies. Days can be sunny with high temperatures of 65° Fahrenheit or snowy with highs in the 20s. In the lower elevations, snows of 1" or more occur rather infrequently--usually only a few times each winter. Typically this snow melts within a few hours of falling.
At higher elevations, the climate is significantly cooler than in the surrounding lowlands and the mountain peaks receive much more snow. At nearly a mile high, Newfound Gap (elevation 5,046') receives an average of 69" of snow during the winter season. When winter precipitation is falling however, travel conditions can quickly become very hazardous in the park. Newfound Gap Road (US-441) and other park roads are often temporarily closed during winter storms due to snow and ice on the roadways.
Before visiting the park in winter, please call (865) 436-1200 for road closure and weather information. Dial extension 631 for updates on temporary road closures and extension 630 for a weather forecast. Or follow road status updates on Twitter at https://twitter.com/smokiesroadsnps. Updates are available for Newfound Gap Road (US-441), Little River Road, Laurel Creek Road, and Cades Cove Loop Road.
If Newfound Gap Road is not closed due to snowy or icy conditions, opportunities exist for cross country skiing and hiking in the snow along Clingmans Dome Road, which is closed to vehicles in winter. This road starts 0.1 mile south of Newfound Gap.
You can see if any snow has fallen in the park by visiting the park's two WebCams:
Look Rock (mid elevation - 2,670')
Purchase Knob (high elevation - 5,000')
In addition, the National Oceanic and Atmospheric Agency (NOAA) publishes temperature and precipitation data for several locations in the park. Visit their website to see if any snow has accumulated in the past 24 hours.
Last updated: February 14, 2019