Rainbow Falls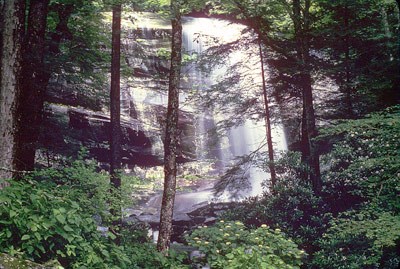 A rainbow produced by mist from this 80-foot high waterfall is visible on sunny afternoons. During extended winter cold spells, an impressive ice formation builds around the falls.
Between trailhead and falls, Rainbow Falls Trail gains about 1,500' in elevation. The 5.4 mile roundtrip hike is considered moderate in difficulty. The Rainbow Falls Trail continues for approximately 4 miles beyond the falls to the summit of Mount Le Conte.
Access Trail:
Rainbow Falls Trail in the Roaring Fork area.
Trailhead:
From the parkway in Gatlinburg, turn at traffic light #8 and follow Historic Nature Trail into Great Smoky Mountains National Park. Continue past the Noah "Bud" Ogle homesite to the clearly signed Rainbow Falls parking area.

Trail Notes: The roundtrip distance to the waterfall is 5.4 miles and the hike is generally considered moderate in difficulty. However due to the length, elevation gain, and rocky terrain in sections of the trail, some visitors may rate the hike as difficult. It takes about 3-5 hours to hike to the waterfall and back.
Carry drinking water with you. Portions of this trail are very rocky-sturdy hiking shoes are recommended. Do not attempt to hike the trail in sandals or flip flops. Pets and bicycles are prohibited on the trail.
Do not climb on rocks around the waterfall. Over the years, several people have fallen to their deaths and many others have suffered serious injuries from climbing on rocks near waterfalls or along the riverbanks. These rocks are slippery due to mist and algae. Closely supervise children at all times.
more...

Black bears are sometimes active in this area. Please read What Do I Do if I See a Bear.

Pets are not allowed on this trail. The only two trails in the park that allow pets are the Gatlinburg Trail near the Sugarlands Visitor Center and the Oconaluftee River Trail near the Oconaluftee Visitor Center. Learn more about pet restrictions in the park.
Last updated: July 12, 2016