Park it Forward Partner Communications Toolkit
About the Toolkit
We need your help spreading the word about the Park it Forward
parking tag program
—and we've made it easy! See the drop-downs below for ready-to-use content to share with your organizations, employees, and individuals in your community. We invite you to join us in this historic initiative!
Beginning March 1, 2023, valid parking tags will be required on any vehicles parking for longer than 15 minutes. Approved parking rates are $5 for a daily parking tag, $15 for a weekly parking tag, and $40 for an annual parking tag. All revenue will stay in the park to provide sustainable, year-round support focusing on improving the visitor experience, protecting resources, and maintaining trails, roads, historic structures, and facilities. Visitors who simply drive through the park will not need a parking tag.
Park it Forward Messaging
Valid parking tags will be required for any vehicles parking in the park starting March 1, 2023.
Display of physical parking tags in each vehicle will be required.
Three tag durations will be available for purchase for all vehicle sizes and types:

Daily - $5
Weekly - $15
Annual - $40

Parking tags will not be refundable, replaceable, transferable, or upgradable.
Each tag will be valid for a single vehicle.
Parking tags will be available for purchase both online and onsite.
Parking tags will not be required for motorists who pass through the area or who park for less than 15 minutes.
Parking tags will not be location specific. A parking tag will be required to park in any designated parking spot anywhere within park boundaries.
The annual parking tag is in the form of a cling that will be adhered to the vehicle's windshield in the front, lower, passenger side.
The daily and weekly tags will be paper and should also be displayed in the front, lower, passenger side of the dashboard. 
Visit our
Flickr album
for graphics and logos. These are all in the public domain. They are various sizes and styles for social media, webpages, or print.
Download our
Parking Tag Flyer
to print and or post.
Daily ($5), weekly ($15), and annual ($40) parking tags will be available for purchase at kiosks and visitor centers as well as online at recreation.gov or smokiesinformation.org. Each tag is valid for use in a single vehicle and must include a license plate number matching the vehicle in which it is displayed. Tags must be displayed physically in vehicles; digital representations will not be accepted. Parking tags do not guarantee a parking spot in a specific location or at a specific time.  
By purchasing a parking tag, you'll be helping to improve visitor services in the park and preserve the Smokies for generations to come. All revenue generated through the sales of parking tags will stay in the Smokies to directly improve visitor experiences and help fund things like trail maintenance, custodial services, trash removal, historic cabin preservation, and staffing for increased ranger presence across the park.  
Annual parking tags ($40) are available for purchase through Great Smoky Mountains Association both in store (smokiesinformation.org/locations/) and online (smokiesinformation.org/shop/). Annual parking tags purchased before the March 1 requirement will still be valid through the end of March 2024. Daily ($5) and weekly ($15) parking tags will be available for sale via recreation.gov beginning February 21 at 10:00 a.m. EST. Parking tags purchased on recreation.gov will be received via email and will need to be printed by the visitor and displayed in their vehicle. Annual parking tags purchased online via Great Smoky Mountains Association will be shipped right to your door! Please allow 2 weeks shipping time.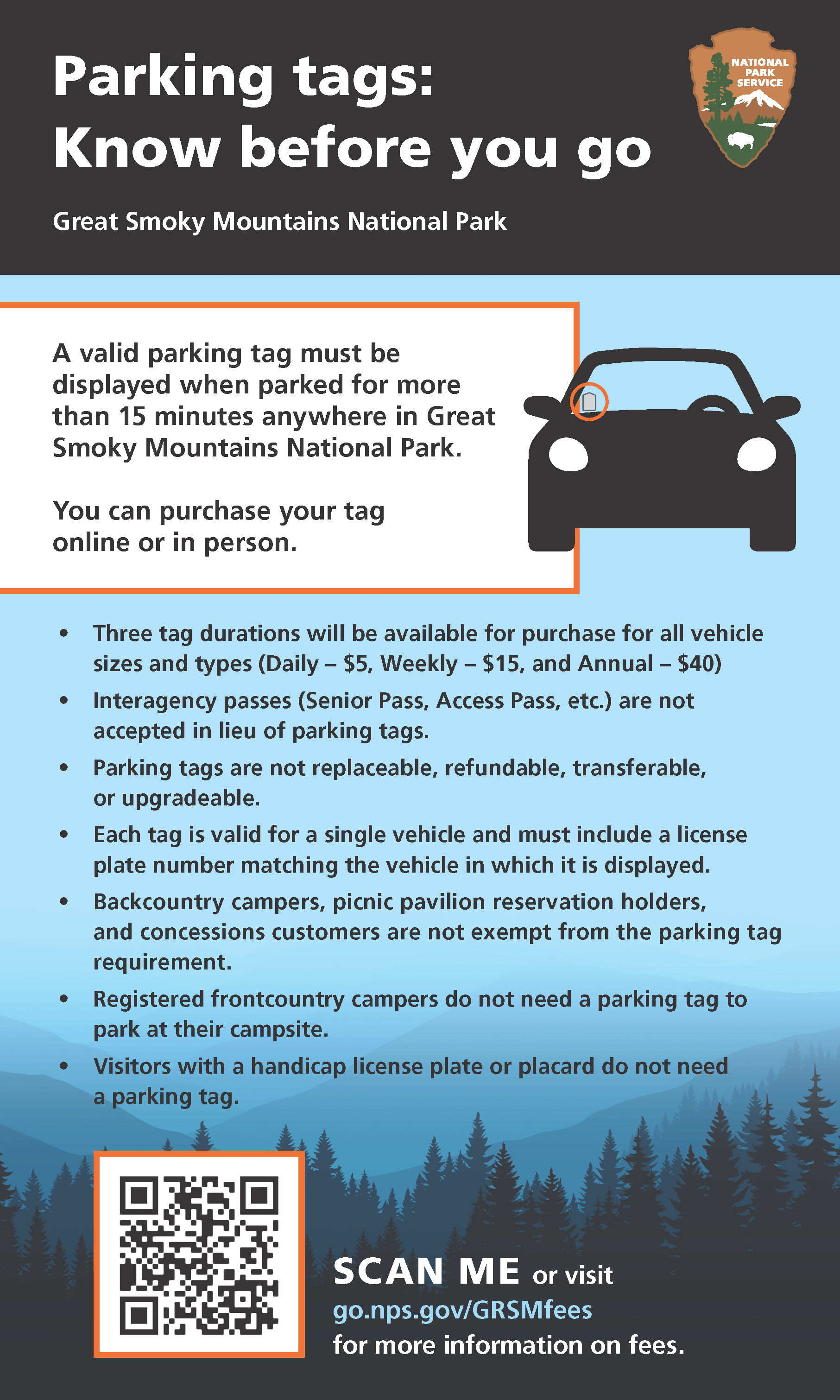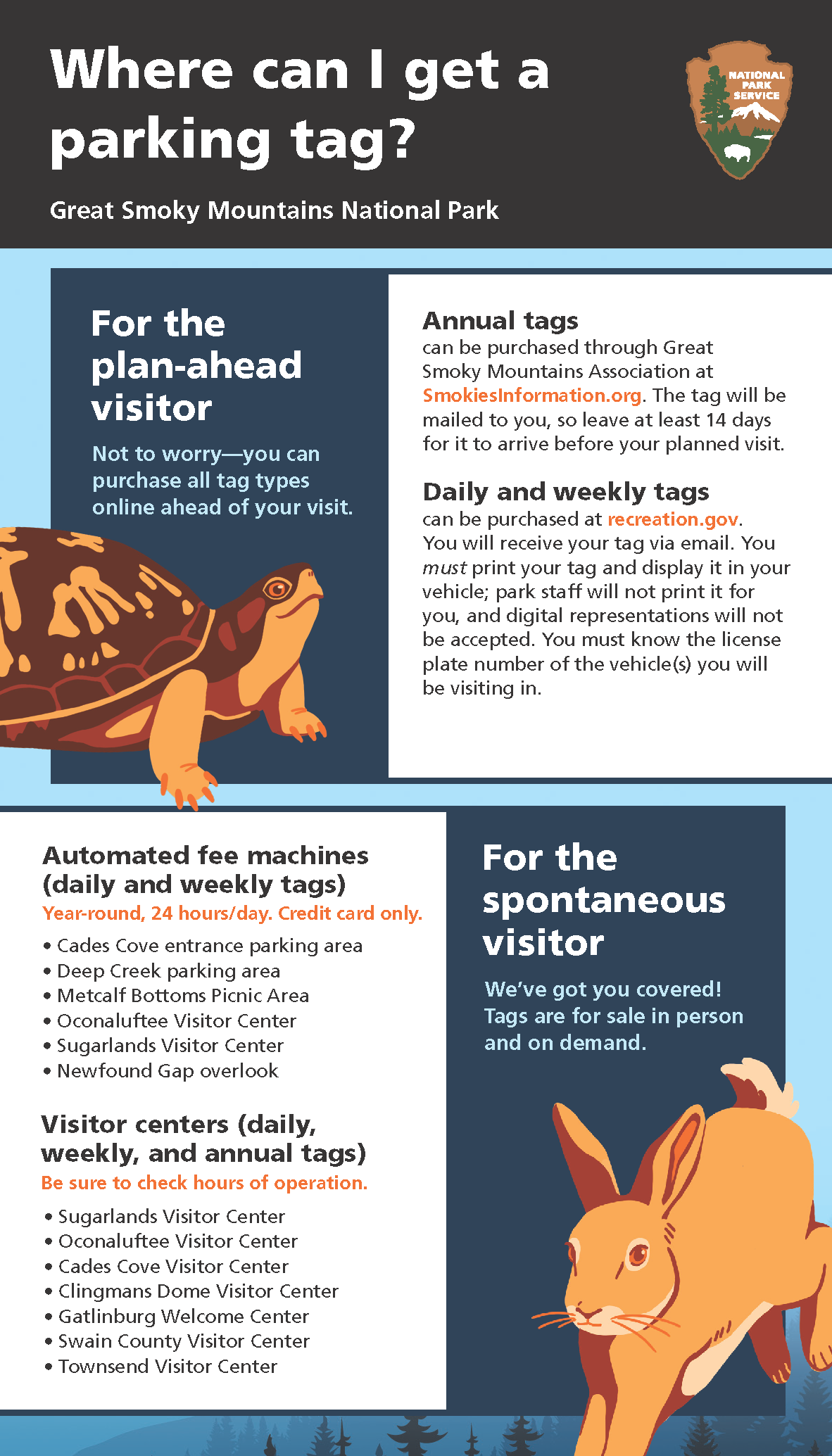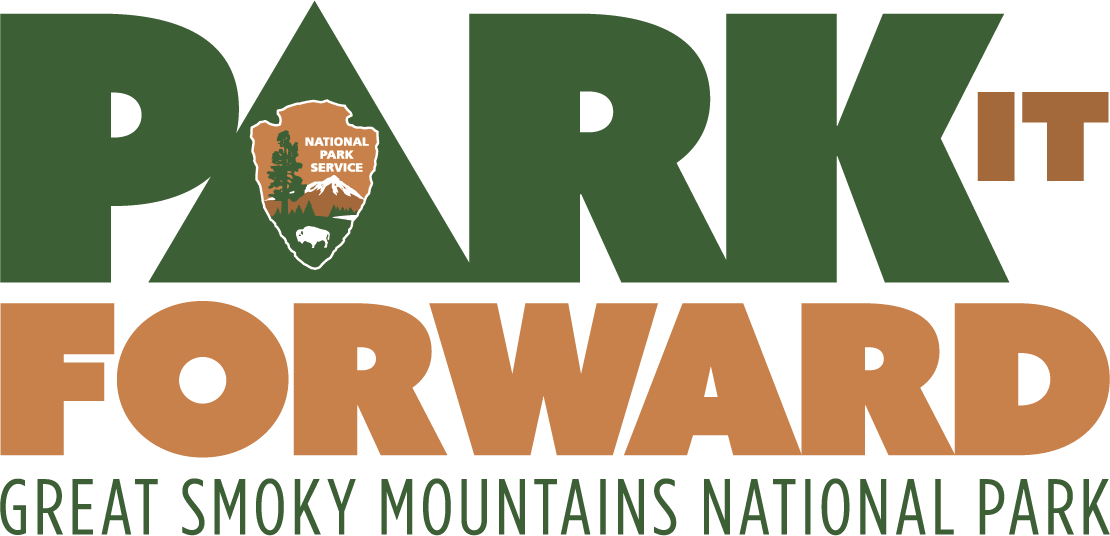 Last updated: January 21, 2023