Mouse Creek Falls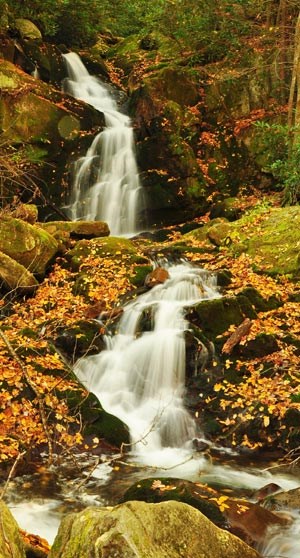 Big Creek Trail follows an old railroad grade used to haul lumber out of the mountains during the logging boom at the start of the 20th century. At 1.4 miles the trail passes Midnight Hole, a deep, picturesque pool below a 6' falls. At 2.1 miles a short side trail on the left leads to a bench where hikers can rest and view Mouse Creek Falls which is on the far side of Big Creek. The falls are 45' in height.
Access Trail:
Big Creek Trail
Trailhead:
Exit I-40 at Waterville Road (#451). Turn left after crossing the Pigeon River and proceed 2.3 miles to an intersection. Continue straight, past the ranger station, to a large parking area at road's end.

Trail Notes: The 4-mile roundtrip hike to the waterfall is considered moderate in difficulty. It takes about 2-3 hours to hike to the waterfall and back.

Carry drinking water with you. Sturdy hiking shoes are recommended. Pets and bicycles are prohibited on the trail.

Do not climb on rocks around the water. Over the years, several people have fallen to their deaths and many others have suffered serious injuries from climbing on rocks near waterfalls or along the riverbanks. These rocks are slippery due to mist and algae. Closely supervise children at all times. Please read this important water safety information.

Pets are not allowed on this trail. The only two trails in the park that allow pets are the Gatlinburg Trail near the Sugarlands Visitor Center and the Oconaluftee River Trail near the Oconaluftee Visitor Center. Learn more about pet restrictions in the park.
Last updated: July 12, 2016