Mingo Falls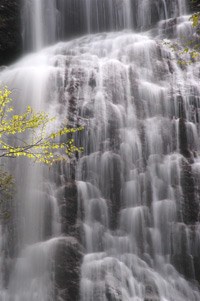 Mingo Falls is in the Qualla Boundary—a land trust of the Eastern Band of Cherokee Indians, just outside Great Smoky Mountains National Park. No special permits are required for access to the area. At 120 feet (36.6 m) tall, the waterfall is one of the tallest and most spectacular in the southern Appalachians. The hike to the waterfall is only 0.4 miles (0.6 km) in length, but is considered moderate in difficulty.

Access Trail: Pigeon Creek Trail
Trailhead: From Oconaluftee Visitor Center, drive south (toward Cherokee) on US-441 and take the second left onto Big Cove Road. At the first stop sign turn left and drive 4.5 miles (7.2 km) to Mingo Falls Campground, where the trail begins.
Last updated: January 31, 2023