Juney Whank Falls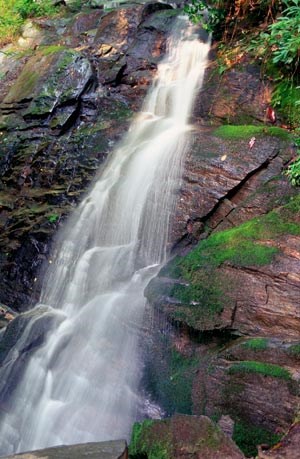 Juney Whank Falls is divided into an upper and lower section. Both can be viewed from the footbridge which crosses Juney Whank Branch at the falls. Together they drop 90 feet from top to bottom. The trail to the waterfall is 0.8 miles roundtrip and is considered moderate in difficulty.
The stream and falls are said to be named after a Mr. Junaluska "Juney" Whank, who may be buried in the area.
Access Trail:
Juney Whank Falls Trail
Trailhead:
Follow the signs to the national park through downtown Bryson City to Deep Creek Campground. Continue past the campground to the trailhead at the end of Deep Creek Road. Backtrack on foot 0.1 mile along the road to the trail.

Trail Notes: The roundtrip distance to the waterfalls is 0.8 miles and the hike is generally considered moderate in difficulty. It takes about 1-2 hours to hike to the waterfall and back. Carry drinking water with you.
Sturdy walking shoes are recommended. Bicycles and pets are prohibited on the trail.
Water recreation is not recommended in the park. Do not climb on rocks around waterfalls or along riverbanks. These rocks are slippery due to mist and algae. Closely supervise children at all times. Please read this important water safety information.
Pets are not allowed on this trail. The only two trails in the park that allow pets are the Gatlinburg Trail near the Sugarlands Visitor Center and the Oconaluftee River Trail near the Oconaluftee Visitor Center. Learn more about pet restrictions in the park.
Last updated: August 6, 2015