Deep Creek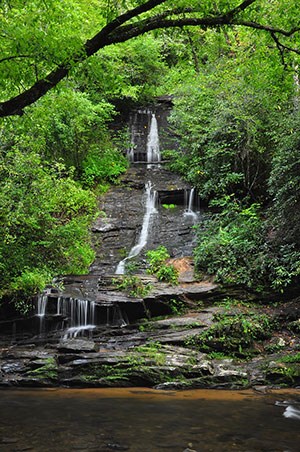 The Deep Creek area is celebrated for its streams and waterfalls. Hikers can choose from several loop hikes leading to the waterfalls. Mountain bikers can take advantage of one of the few park trails where bicycles are permitted.
• Bicycling: Bicycles are allowed on Deep Creek and Indian Creek trails to the points where the old roadbeds end and the trail treads begin.

• Camping: Deep Creek campground is open from early April until late October. Group camping is also available. Reservations are available by calling (877) 444-6777 or visiting https://www.recreation.gov

• Hiking: Around 2 miles of walking will acquaint you with beautiful Deep Creek and three pretty waterfalls. Deep Creek area loop hikes include Juney Whank Falls (0.6 mile), Three Waterfalls Loop (2.4 miles), and Deep Creek-Indian Creek Loop (4.4 miles). Longer loop hikes are also possible. Trails to the waterfalls start from the large parking area at the end of Deep Creek Road (across the creek from Deep Creek Campground).
There are several designated backcountry campsites along Deep Creek Trail.

• Fishing: Pick up fishing regulations at a park visitor center. A Tennessee or North Carolina fishing license is required to fish within park boundaries. A fishing license may be purchased in Bryson City or other nearby communities or online from the states of North Carolina or Tennessee.
• Picnicking: There is a sizable picnic area with restrooms and changing rooms available. The picnic area is open year-round. The pavilion may be reserved by calling (877) 444-6777 or visiting https://www.recreation.gov
Directions: To get to Deep Creek, head to Bryson City, NC and follow the signs three miles to Deep Creek.
Swimming and tubing are not recommended in park waters. Serious water-related injuries occur every year in the park and drowning is the second leading cause of death in the park. Additional water safety information.


Last updated: August 8, 2022