Hike to Rainbow Falls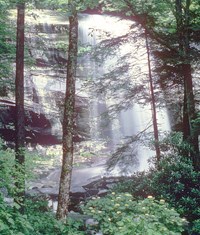 The first mile of this popular but strenuous trail follows LeConte Creek, later passing through an area full of rosebay rhododendron, teaberry, and mountain pepper-bush grow. Pink lady's slippers have also been found here. A log foot bridge crosses the creek about 2 miles from the trailhead, and and the trail then crosses a tributary of LeConte Creek without the help of a bridge. After another two bridges, the falls appear, named for the rainbows seen in the mist that are caused by the afternoon sun. The 80 foot fall occasionally freezes into an hourglass shape in the winter.
Details about taking this hike:
Trail: Rainbow Falls Trail
Driving to the Trailhead: Take Historic Nature Trail Drive (traffic light #8 in Gatlinburg) into the park. At mile 3.4, just after the road becomes one-way, turn right into the Rainbow Falls Parking Area.
Hiking Distance: 2.7 miles one way to Rainbow Falls. The trail continues past the falls for a total of 6.7 miles up to the summit of Mt. Le Conte.
Trail Conditions: Elevation change of 1,700 feet; trail contains switchbacks and is rocky in sections.
NOTE: Pets are not allowed on this trail. The only two trails in the park that allow pets are the Gatlinburg Trail near the Sugarlands Visitor Center and the Oconaluftee River Trail near the Oconaluftee Visitor Center. Learn more about pet restrictions in the park.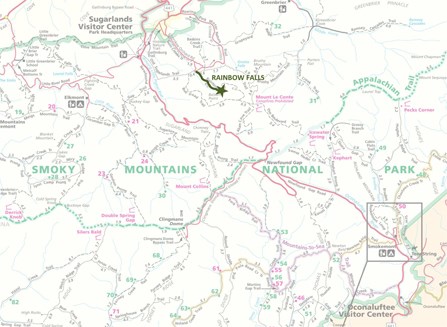 Last updated: June 18, 2019