Hike to Andrews Bald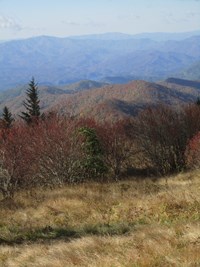 The trail begins from the Clingmans Dome parking lot and drops elevation to get to Andrews Bald. After a large descent, it levels on a broad ridge, soon diverting to the right at mile 1.1. A final ascension through a forest will bring you to the grassy Andrews Bald, named for the cattle herder, Andres Thompson, who brought livestock up here in the 1840s.
Depending on the time of year, hikers can find patches of blackberries and raspberries, Fraser firs, and bluets, a small, blue wildflower sometimes called innocence or Quaker ladies.
Details about taking this hike:
Trail: Forney Ridge Trail
Driving to the Trailhead: Drive to the Clingmans Dome parking area at the end of Clingmans Dome Road. Look for a short access trail down to the left between the bulletin board and the paved trail to the Clingmans Dome Information center and Clingmans Dome tower.
Hiking Distance: 1.8 miles one way to Andrews Bald. Forney Ridge Trail continues past Andrews Bald for a total of 5.6 miles down to Springhouse Branch Trail.
Trail Conditions: Elevation change of 1,200 feet
NOTE: Pets are not allowed on this trail. The only two trails in the park that allow pets are the Gatlinburg Trail near the Sugarlands Visitor Center and the Oconaluftee River Trail near the Oconaluftee Visitor Center. Learn more about pet restrictions in the park.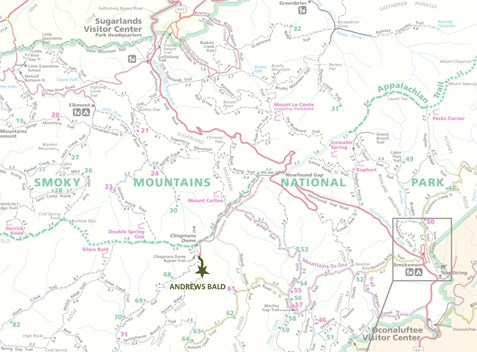 Last updated: June 10, 2016