For Your Safety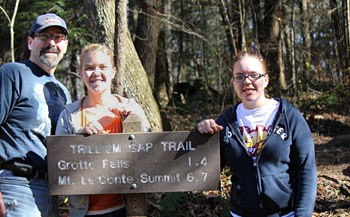 • Do not leave any valuables in your car where they can be seen by others. Take them with you or hide them in your car.
• Do not leave a note on your car indicating where you will be hiking and how long you will be gone. Always leave your itinerary with a reliable person who is not on your trip and who will report you overdue if necessary.
• Plan an itinerary that is realistic for your group's level of backcountry experience and physical abilities to backpack in steep, mountainous terrain and a variety of weather conditions. Your group is only as strong as the weakest member. Remember, most maps are flat representations of the park's backcountry. Backcountry terrain in the Smokies
is not flat
. Thus, it is important to research the terrain of your trip.
• Check the weather prior to your trip. Be aware how rain, snow or other weather conditions may affect your group and access to trailheads or campsites. Remember that elevations in the park vary by as much as 5,000 feet and weather conditions can be highly unpredictable and extreme. The Smokies is a temperate rain forest so you should never backpack without having rain gear and warm clothing. Cotton clothing is not recommended as it quickly gets soaking wet and will not dry out. Besides being very uncomfortable, wet clothing can also lead to hypothermia.
• Plan to get to your campsite before dark.
• Always keep your group together, stay on the trail and don't hike at night. If you get lost, stay calm and stay in place.
• Do not rely on technology to save you. Cell phones do not work most places in the backcountry and GPS is sometimes unreliable. Always carry a Great Smoky Mountains National Park Backcountry Trail map or other reliable map of the park's backcountry with you. It is your responsibility to plan and execute a safe trip for you and your group. Help is often many miles away and may take days to get to you.
• Pay close attention to your location as you move through the park. This information is invaluable in case of emergency.
• If you have an emergency and have cell phone access, call 911. Be sure to tell the operator that you are in Great Smoky Mountains National Park, what trail you are on or what campsite/shelter you are at. If you are on a trail, giving the nearest trail intersection and your distance from it is very helpful. Be prepared to give the operator a thorough description of the problem. If you do not have cell phone access, send other hikers to get help.
• Backcountry conditions are constantly changing and you must be prepared for the unexpected!
Last updated: April 14, 2015