Appalachian Clubhouse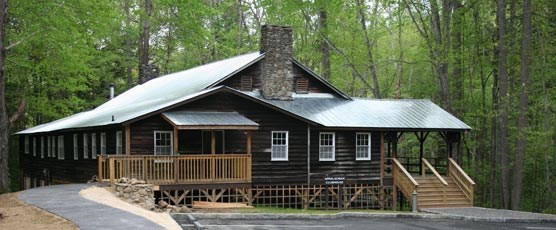 The Appalachian Clubhouse is a historic structure located in the Elkmont Historic District. It was used as a gathering spot by lessees and guests of the Appalachian Club, which was established in 1910. Club members, mostly from Knoxville, built rustic cabins nearby to serve as weekend or summer retreats in the years before the park was created. The original clubhouse was destroyed by fire and replaced by the exsiting building in 1934. The building has now been rehabilitated by the National Park Service to its appearance in the 1930s.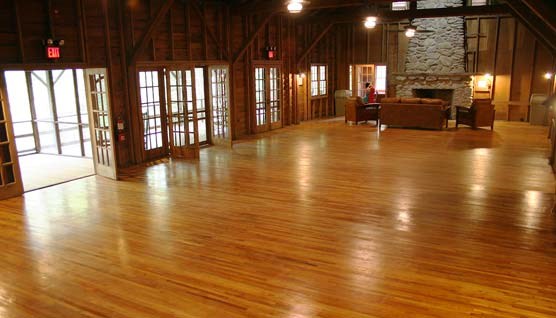 The 3,000 square foot, one-story Clubhouse features a large, open meeting hall about 25' by 60' in size with exposed wooden beams and massive stone fireplaces at each end that are equipped with gas logs. It is lighted by period-type fixtures suspended from the ceiling and with wall-mounted sconces. French doors along the entire east side open onto a broad, roofed porch overlooking the forest and a small creek.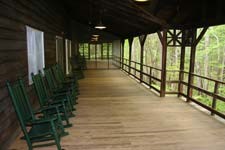 It is equipped with folding chairs, round dining tables and rectangular buffet tables. There is a caterer's kitchen that has countertops, electrical outlets and a sink where food can be kept warm or served, but it has no cooking facilities or refrigerator. Newly built restrooms located just a few yards from the building accommodate both Clubhouse users and hikers using nearby Jakes Creek and Little River Trailheads. Both facilities are fully accessible.
The Appalachian Clubhouse is available for use from April 1 - October 31. The Clubhouse is rented on a daily basis and may be used from 10:00 AM through 9:00 PM. Reservations and more information, including a map and photographs are available here.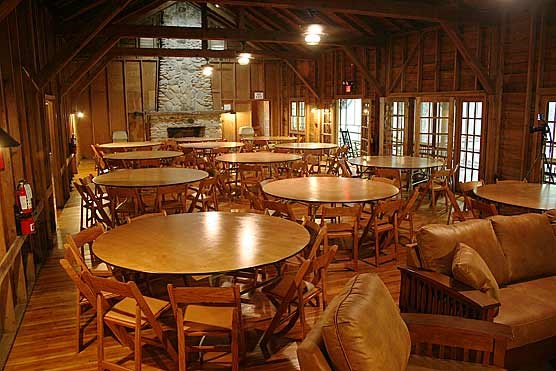 Take A Short Video Tour of the Appalachian Clubhouse
The park's two non-profit, partner organizations, the Great Smoky Mountains Association, and The Friends of Great Smoky Mountains National Park, have posted a video tour of the Appalachian Clubhouse on their YouTube channels. Both organizations also offer a number of other interesting videos about the national park. The links below go directly to the Appalachian Clubhouse video, but be sure to check out the organizations' YouTube channels to view all of the additional videos they offer! (By clicking on the links below, you will be leaving the national park website and going to our partner organizations' YouTube pages.)
Great Smoky Mountains Association
Friends of Great Smoky Mountains National Park
Last updated: December 12, 2022