Park Soundscape
Acoustic Environment
NPS Directors Order #47 specifies what actions park management must take to preserve the parks acoustic footprint. Sound pollution effects the parks cultural soundscape and prevents visitors from making meaningful connections when contemplating the serenity of a burial landscape or enjoying a picnic next to a burbling stream. Some species of animals when conditioned to long-term noise pollution will alter their mating calls to be heard which their opposite sex may not respond to.
Mapping Sound
The parks soundscape can be explored in geographic context by using a sound model. Using easily-measured factors such as topography, climate, human activity, and time, park scientists have created an interactive maps which show existing and natural soundscapes. The existing soundscape is based on actual measured sound levels, including those caused by human activities such as vehicles, aircraft, and other man-made noises. The natural soundscape shows expected sound conditions which include wind, running water, and animals: without the human factor. Zoom and pan through the two maps below to explore how the park provides a natural sound experience for visitors and compare sources of sound impact.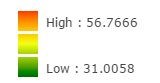 The map above shows what natural sounds "should" occur in the absence of human influence, or human-produced noise sources. The map below shows modeled sounds including human sources. Note how many places in the park provide some "peace and quiet"!
Last updated: November 7, 2019