Mountains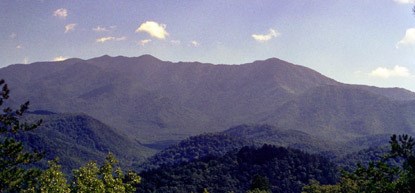 Error: You have supplied an invalid NPMap ID. Please edit this element's data and check to ensure the id is correct.
ELEVATIONS IN THE PARK

The crest of the Great Smokies runs in an unbroken chain of peaks that rise more than 5,000 feet for over 36 miles. Elevations in the park range from 876 to 6,643 feet.

The Top 10 Peaks (elevation in feet)
Clingmans Dome - 6,643
Mount Guyot - 6,621
Mount Le Conte (High Top) - 6,593
Mount Buckley - 6,580
Mount Love - 6,420
Mount Chapman - 6,417
Old Black - 6,370
Luftee Knob - 6,234
Mount Kephart - 6,217
Mount Collins - 6,118

Elevations of Popular Destinations (in feet)
Andrews Bald - 5,920
Charlies Bunion - 5,565
Balsam Mountain Campground - 5,310
Newfound Gap - 5,046
Alum Cave Bluffs - 4,970
Spence Field - 4,920
Chimney Tops - 4,800
Rainbow Falls - 4,326
Ramsey Cascades - 4,275
Grotto Falls - 3,770
Cataloochee Valley - 2,680
Laurel Falls - 2,600
Smokemont Campground - 2,198
Elkmont Campground - 2,150
Little Greenbrier School - 2,070
Oconaluftee Visitor Center - 2,040
Cades Cove Visitor Center - 1,716
Fontana Dam - 1,709
Abrams Falls - 1,473
Sugarlands Visitor Center - 1,462
Abrams Creek at park boundary - 876



Last updated: June 29, 2016