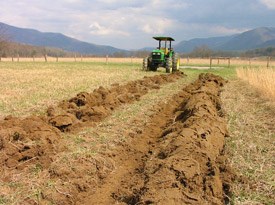 What is vegetation management?
With the help of scientists in the Park's Vital Signs Monitoring program, vegetation managers monitor forests, grassy balds, meadows, and wetlands over time. They work to eliminate or control invasive species, restore landscapes altered by agriculture, and re-vegetate disturbed areas with native plant species.
Who manages the park's vegetation?
Vegetation managers include foresters and biologists.
What projects are Vegetation Managers working on now?
Exotic invasive species' management is important to protect the Park's landscape and to comply with the Executive Order on Invasive Species.
Exotic Invasive Plant Species Control
What are exotic, invasive plant species?
An exotic, invasive species is not native to an area and displaces native species. Take kudzu as an example: a highly vigorous and adaptive species from Japan, kudzu, brought in to stabilize slopes, now pours down hillsides choking out native plants by blocking light and using up soil nutrients and water. Over time, exotic invasive species like kudzu change plant communities and sometime entire ecosystems.
How big is the problem? Where do exotic plants come from?
In the Great Smoky Mountains, scientists have counted 350 exotic plant species. They come from a few sources:
Pre-Park homesite landscaping
Gravel and topsoil brought into the Park
Visitors' shoes, tires, and floormats
Animal and wind deposition, especially following fires in the Park
Of the 350 species, the park actively controls 50 - those that are exotic AND invasive. Some of these include: kudzu, multiflora rose, coltsfoot, and garlic mustard. Plants that take over native species' habitat and thereby alter the food chain, fire regimes, and biodiversity are top priorities.
How are they controlled?
The park's exotic plant treatment program has deep roots. Beginning in the 1940s and 1950s, the park was already treating kudzu and multiflora rose. In the 1980s vegetation managers mapped and documented several exotic, invasive species and since the 1990s the park has had a successful program combining chemical and manual control as well as prevention of new plant introductions. When possible, vegetation managers pull or cut invasive exotic plants. When this isn't practical, they spray selective herbicides or cut trees and paint stumps with herbicide.
Does management work?
With persistence, yes. Because Great Smoky Mountains National Park began its invasive species control program early, it has fewer rampant exotic populations than other parks of a similar size. The program involves systemic treatment, beginning with thorough surveys, accurate documentation and mapping, best management practices for control, and consistent monitoring and re-treatment. Volunteers often work in conjunction with managers to efforts can continue throughout the Park.