Research Questions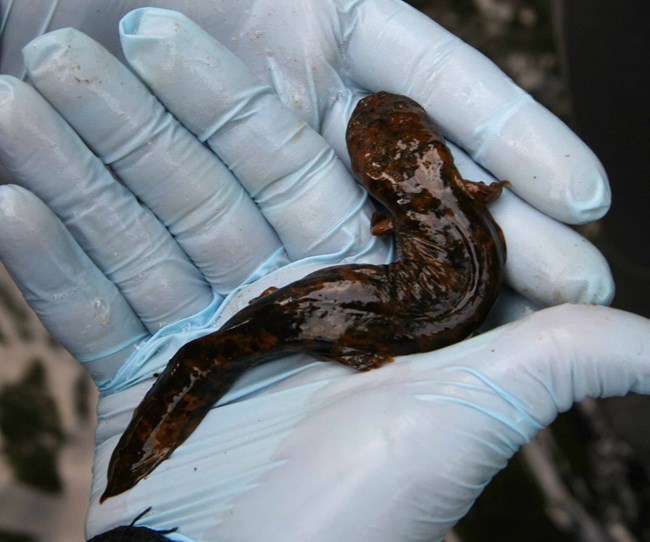 Conservation genetics:
Identify species across the park that would benefit from genetic analyses to describe the species genetic attributes, population relatedness across their distribution, population connectivity & structure and the recommended unit of management. Priorities include rare species, species of management concern, local or regional species of high value.
To the extent possible,
determine how the spruce-fir forest community is recovering
since the arrival of the balsam wooly adelgid and how the new community differs from the pre-bwa community.
Refugia and selected biological hot spots in the park need to be identified and evaluated
for their vulnerability (sustainability/extirpation) to the various regimes of disturbance that now occur and might be expected to occur in the foreseeable future, both natural and anthropogenic. This should include fire, severe storms (flooding/erosion/sedimentation), recreation, drought, invasive species/diseases infestations, succession (or its maintenance), atmospheric deposition, possible climate changes, various species introductions, ozone events, air pollution, water pollution, and other types of disturbances.
How is the distribution/deposition of organic mercury different from that of total mercury and
is inorganic mercury being methylated to a significant extent in the park
(and if so, where and under what conditions)?Do heath balds and/or wetland/riparian communities in the park serve as methylation sites of importance to the park? Where in the park is mercury deposition the worst, in amounts/rates of deposition and most vulnerable communities, building on existing data on mercury hotspots?
Downscale Climate Models
to the park level. What are the anticipated local expressions ofclimate change in the park and what will they mean to refugia, endemic species, threatened and endangered species, and the distribution, extent, and health of various natural communities?
Define the role of micorrhizal fungi in forest health
(along with soil microbial ecology) for major forest types and forest types and risk, especially to assist restoration management with added important ecological management tools not presently known.
How and where did
soil structure change in relation to legacy land-use practices
and how is it recovering?Can a map be produced of the different classes of soil disturbance in the Smokies?
Even in nature soils get disturbed with tree uprooting, fires, etc. can "natural disturbance" of soils in old growth forest be characterized?Are areas of former alterations more prone to exotic invasion and if so, why?

How will forecast increases in temperature (via new NOAA report), and differing precipitation regimes affect our soils resources? Will oxidation increase? Will soils in particular environments become more stressed than others (e.g. steep slopes, on SW aspects at low elevations)? Will carbon sequestered in finer soil textures be mobilized? Interpret soil data for susceptibilities to other expected stressors (acid deposition, mercury deposition, etc.). Model/identify soils with highest potential for change under these stressors.
What is the relationship between wildfire severity/frequency and habitat change
(i.e. vegetation composition, invasive plants & animals, soil alteration, native animal community composition)?
Develop a model for water temperature across park streams and rivers
to determine how climate change may affect daily and seasonal stream temperatures, discharge and critical maximum temperatures.
How is
water quality impacted by point-sources
(i.e. waste-water treatment plant, sedimentation, concession waste, septic systems, mines, etc.) and
non-point sources
(i.e. road runoff, fertilizer, de-icers, crush & fill, trampling, moving rocks, erosion, acid deposition, etc.) of pollution? Conduct an inventory of the anthropogenic point-sources of water pollution that affect the park, then identify and describe the impact on the affected communities in those areas.
We have a lot of oil and brake fluid deposited on the lower reaches of both ends of the road across the mountain (highway US 441).This would seem like the highest probable stretch for accumulation of chemicals on road surface in the park and both run along rivers. What is the impact of run-off upon aquatic and riparian communities?
What has been
the role of landslides in the park's geological and ecological history
?
What are the
changes in ground water hydrology/water quality due to anthropogenic sources in high elevations
? Will vegetation change from acid deposition, climate change, forest pests, and/or ozone levels alone effect water discharge rates at high elevation springs? Model the
effects of climate change on T&E species
, to prepare for risks to park resources, and to help verify the existence and form of climate change at different elevations.Information may also help tease out different stressor sources causing changes in species & habitat conditions.
Cloud and Fog Precipitation Change:
Needle leaf conifer forests in fog prone areas generate their own "fog precipitation" by allowing clouds to penetrate the branches/crown, instead of deflect around them like in hardwoods. This can be a significant amount over what is recorded in the standard precipitation gauges. We are losing our conifer species that tends to dominate on the highest elevation (=most fog prone) sites. Fraser firs even tend to dominate on the windward sides of slopes where fog would presumably be at maximum occurrence. What difference is there in fog precipitation "harvest" by needle leaf conifers now and in future years, vs. what it was like pre-adelgid, about 25-30 years ago? If there is a loss, can an amount be estimated in annual losses? What are the impacts of that loss to other (endemic, rare, sensitive) species?
Investigate
the faunal and floral make-up within/near the park at past (quaternary) intervals
and link them with climatic records to help create conceptual models on vegetation responses to climatic conditions to help predict potential effects of climate change scenarios on the ecological condition of the park. Potential sources for this information include insect remains preserved in high elevation heath balds, pollen in wetland sediments, wetland vegetation preserved by earth movements in certain portions of the park, fossils in caves, and deposits/fossils in possible microcaves in the park's limited karst areas. What can be learned about paleoecology and paleoclimate from excavation of sub-fossil plant debris found 5 meters deep at the Tight Run site at Ravensford, hypothesized to be ~9,000 BP.
Why does only one of the park streams appear to have a demographically healthy
hellbender population
?Can anything be done to improve conditions for hellbenders in some of the park's other large streams?
Can the resources of the park be sustained under heavy and increasing visitor use?
Research is needed to identify which resources are most negatively affected by visitor use and how the negative impacts can be reduced or eliminated while retaining a quality visitor experience. Modes and extent of transportation (car, horse, foot, bicycle, bus, etc.), surface conditions, and management of wastes and emissions/noises are involved.
Effects of concern involve wildlife/biota, air quality, trampling, invasive species, stormwater runoff, safety, maintenance, and habitat fragmentation. One special concern is aquatic resources being physically disturbed by wading visitors, moving rocks, etc.
Last updated: July 27, 2018