Research Questions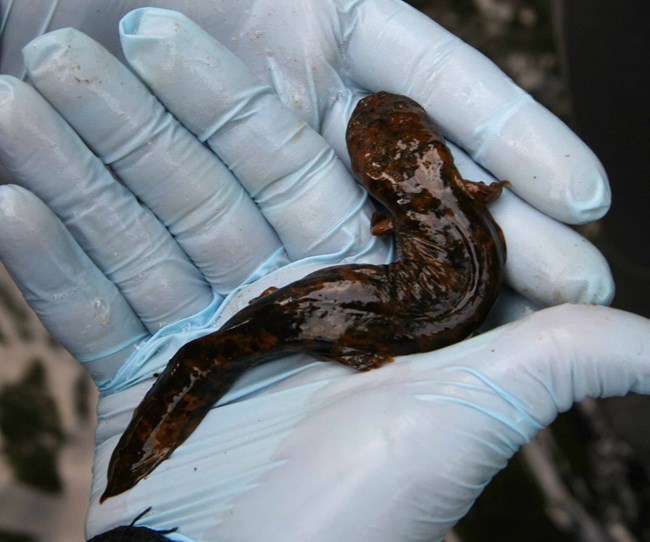 Park visitation has increased by 57% over the past decade and much of that visitation has focused on a handful of sites in the Park.
How best can the Park quantify the impacts of excessive visitation on GRSM natural resources
(terrestrial vegetation, soil compaction, arthropods, mollusks, invertebrates, vertebrates) in the most highly visited destinations across GRSM (i.e. Laurel Falls trailhead, Alum Cave trailhead, Rainbow Falls trailhead, Abrams Falls trailhead). What are the best metrics to monitor visitor use impacts on natural resources?
Recreational use of Park streams for swimming and floating on innertubes ("tubing") has become increasingly popular and with it, the moving of rocks to clear channels, build dams, and construct rock art.
Are these visitor activities impacting rare (i.e. hellbenders, mussels) and/or federal T&E aquatic species (i.e. Citico Darter, Smoky Madtom, Yellowfin Madtom) across GRSM?
Under its fire management plan, the Park uses prescribed burns to invigorate a species or ecosystem that benefits from fire or to reduce build-up of dead wood or brush. To better accomplish these goals while minimizing impacts on the Park's resources,
what impacts do burn unit sizes, firing techniques and burn frequency intervals have on birds, small mammals, invertebrates and herps?
Oak forests make up over 1/3 of total area in the Smokies. Across most of this area oak does not appears to be recruiting at a rate strong enough to retain these stands in oak into the future.
What is the current state of regeneration in oak forests parkwide?
Are there areas where oak regeneration is healthier and if so, is this because of wildfire, prescribed fire, or other disturbances? What is the modeled future of these stands if nothing changes?
Since the hemlock woolly adelgid was first detected in the Park in 2002, Park Foresters have partnered with other agencies and researchers to release several species of biological control insects to feed on and limit the impact of the adelgid across all of its life stages.
What is the status and efficacy of hemlock wooly adelgid biocontrols?
With many stands of hemlock though out the Park in decline or dead because of the hemlock woolly adelgid,
what are the successional pathway(s) for former hemlock forests? What is the state of hemlock regeneration in these areas? Are there restoration steps that could be used to facilitate hemlock regeneration in these stands?
In 2014, the Park initiated a Vital Signs monitoring framework, upgrading the natural resource monitoring program initiated in the 1990s. Now that one or more cycles of monitoring under this new plan have been completed, the Park seeks help
develop tools
(i.e. control charts, mean and CV's, etc.) based upon long-term monitoring data that could be used
to edit the Vital Signs monitoring protocols and reduce sampling design and frequency
.
How has climate changed precipitation patterns in GRSM?
Are precipitation events different (are there more heavy rain events)? Are dry periods different (longer, extended droughts)?
How will forecast increases in temperature, and differing precipitation regimes affect our soils resources?
Will oxidation increase? Will soils in particular environments become more stressed than others (e.g. steep slopes, on SW aspects at low elevations)? Will carbon sequestered in finer soil textures be mobilized? Interpret soil data for susceptibilities to other expected stressors (acid deposition, mercury deposition, etc.). Model/identify soils with highest potential for change under these stressors.
Are there any indications of lingering damage from past storm run-off at park maintenance yards, roadside ditches near streams, and/or horse concessions, or continued threats that can be identified and rectified?
What are the impacts of petroleum-based run-off from park roads on park streams?
Conduct an archaeological survey of the park using sampling methods to
determine settlement patterns across time and space
. Include a recognizance survey and sample surveys in likely historic/archaeological sites (Indian dwelling areas, lumber mills, mines, CCC camps, etc.). Assess potential National Register eligibility and utilize information on site location to develop survey priorities.
Grassland/open areas make up a small but significant portion of the total Park, especially at Cades Cove, Cataloochee, Oconaluftee, and high elevation grassy balds. These areas require management to remain open.
Assess pollinator habitat and how an open areas plan could work most effectively.
What is the status of G3 and rarer species, including monarch butterfly, Bombus terricola and B. pensylvanicus?
The Park knows much more about wildlife distribution during the breeding season than during migration or winter
. Inventory over-wintering sites & migratory routes of migratory organisms
(neotropical migratory birds, bat species, butterflies) to manage and conserve quality sites in appropriate locations, with special emphasis on use of grasslands like Cades Cove.
What effects do pollutants have on plant stress and consequent vulnerability?
What are the effects of acid deposition, heavy metal deposition, climate change, and other stressors on the impacts of exotic forest insects and diseases, as well as any potential for these stressors to increase the impacts of native forest insects and diseases?
Determine
mercury methylation and food web pathways
from atmospheric deposition to upper trophic level mercury bioaccumulation in aquatic species.
What is the best way to
monitor the population health of the synchronous firefly
? What is the best way to monitor shifts in firefly activity patterns with changing climate?
Last updated: July 26, 2022