Lost Brook Trout Populations From Headwaters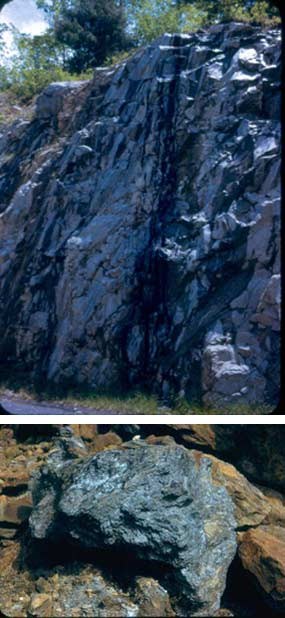 You're Right!
Eagle Rocks Prong, Cannon Creek, Ramsey Prong, Beech Flats Prong, and Alum Cave Creek.
These streams were impacted due to acid rain and/or acid rocks (e.g. anapest- naturally found throughout the Smokies). Both acid rain and acid rock formations deposit acid compounds (acids, heavy metals, etc.) into the stream lowering the stream pH. Deposition of acid compounds from acid rain and acid rocks kills the aquatic insects fish rely upon for food and makes the fish more susceptible to disease. Acid rocks (a.k.a. pyretic rocks) deposit acid compounds into the soil. When they are exposed to air and water, they leach metals out of the soil, such as aluminum, cadmium, and manganese, which can kill fish. These metals and acid compounds inhibit metabolic, cellular, and reproductive processes and can reduce reproduction, growth, and ultimately, survival. The release of these acid compounds is very slow and may take 100's of years before the rock surface has been weathered (or neutralized). You can see some of these exposed acid rock formations along Newfound Gap Road (U.S. Hwy 441) near Newfound Gap or just south of the turnoff to Clingmans Dome Road. Look for the orange or rust colored rocks indicating where the iron sulfides are being oxidized creating rust from the iron as shown in the pictures above.
Click here to continue on to Question 19.
Last updated: April 14, 2015