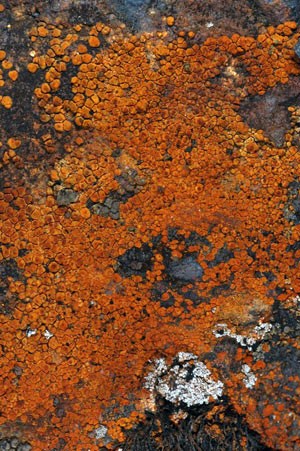 "Other than the Smokies and a few other protected areas, lichen diversity in the East is radically different from that of a century ago," said Dr. James Lendemer of the New York Botanical Garden, as we hiked up the Noland Divide Trail out of Deep Creek. Lichens are composite organisms, usually composed of a green alga and a fungus that together can live in locations that many other forms of life cannot, such as the sun-baked exposed rock faces we were heading up the trail to find. The two parts of a lichen support each other, with the fungus providing protection for the algae and feeding off of the sugars the algae produces by photosynthesis. Lichens are named for the fungus, as often the same algal species is found in many different lichens. As we hike, we notice lichens that hang from trees like hair, bright red-tipped British soldier lichens, and leafy growths or gray "paint splotches" on tree trunks.

Lichens are incredibly diverse. On another hike up the Bullhead and Rainbow Falls trails to Mount Le Conte with Dr. Lendemer and his fellow taxonomist, Dr. Erin Tripp of the Rancho Santa Ana Botanic Garden, over 200 species were observed. More than 5,000 species of lichen and related fungi have been documented in North America, and over 800 of those have been found in Great Smoky Mountains National Park. Along with colleague Dr. Richard Harris (also of NYBG), Drs. Lendemer and Tripp have described 20 lichen species and two lichen genera that are new to science and have reported numerous geographic range extensions. Researchers have found more species of lichens in the Great Smok Mountains than in any other national park unit.
When we get to the first rocky outcropping, Dr. Lendemer starts calling out names as if he is seeing long-lost classmates at a college reunion. A patch of yellow on a rock turns out to be Acarospora sinopica, a species that lives on exposed rocks with high iron content. It is a new park record.

Dr. Tripp calls out about another unusual record. I assume she is talking about a large, leafy species at the top of the rock. But she points to an inconspicuous brown crust with tiny black dots on the rock face itself. It stood out like a stop sign to her as she walked by, but I hadn't noticed the lichen crust though I had been staring directly at it.