For those in school: Fire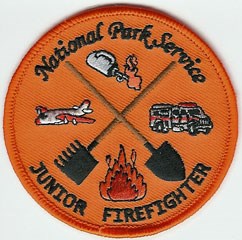 Are you interested in doing the detailed and hard work of planning—and even fighting—fires in your national parks? If you like spending your days studying forests, planning for safety and coordinating with a large team, or knowing you're helping ecosystems through controlled fire, a career in fire management may be for you. Here are some suggestions about how to start:
In high school: Take science (especially biology to learn about plants), math, geography, and other general courses geared for college-bound students. Volunteer after-school or during the summer for local fire departments, trail crews, state and national parks, or local rescue associations. You can also ask parks and museums if they have high school summer internships, as the Great Smoky Mountains National Park does, to get more experience in the field.
If you like volunteering in these places, keep in mind that you need at least a high school diploma or GED for most seasonal technician jobs, and a bachelor's degree or higher to continue in the field.
In college and/or graduate school: As with many careers in the National Parks, a B.A. or B.S. in a related field (forestry, landscape ecology, botany, geography, geology, wildlife management, or others that take a landscape-scale-look at biological processes) helps you find opportunities and know what you're doing. A master's degree and independent research in these fields are helpful if you want to be a subject expert. A PhD is rarely necessary for the hands-on research and field work that many of the fire managers in the park service do, but extensive field experience, safety certifications (Wilderness First Responder and/or Wilderness EMT), felling certifications (to use a chainsaw to fell trees), and a Red Card to fight fire, as well as the ability to do hard, high quality work are necessary.
Gaining other experience: It is required for most fire management jobs that you start gaining experience early, and keep adding any hands-on field time you can. You can gain experience for a career in fire management through internships and seasonal jobs within the national park service, and by taking all of the required fire safety, felling, and certification courses. Volunteering with a local fire department, arboretum, grassland, or other agency where you can work with fire and/or complex interactions of native plant communities is useful. Also, check out the Federal Jobs website for current, competitive job openings: search for biological or forestry technician positions or seasonal fire management (or fire crew) positions when you're starting out. You can also JUST be on a crew that puts fires out: Hot Shot and other crews offer exciting and extremely challenging positions, especially in western parks. While you may not begin by working directly in a fire management program if you start with seasonal jobs, experience on trail crews, with tools, with biologists identifying plants, or in other ways helping to preserve forests will help you move forward. These jobs will help you gain entry level jobs or a spot in a college program.
Good luck, and have fun!
Return to Dispatches from the Field: Issue 8.
Last updated: September 29, 2015