For those in school...how you can discover life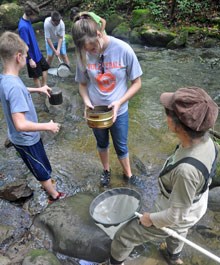 Are you interested in searching for new forms of life? If you like spending your days in the field with a net, a guidebook, and a magnifying glass, here are some ways you can do that in our National Parks:
In high school: Take biology, geography, chemistry, earth science, geology, ecology, and math courses geared for college-bound students, because these will prepare you for challenging college courses. Ask parks if they have high school summer internships, as the Great Smoky Mountains National Park does. You can also gain valuable experience as a summer or after-school volunteer.
Some internships at the high school level allow you to gain experience in observing, collecting, and identifying different forms of life. You need at least a high school diploma or GED for most seasonal jobs, and you should plan on getting a bachelor's degree to continue in the field.
In college and/or graduate school: As with many careers in the national parks, a B.A. or B.S. in a related field (biology, botany, entomology, geography, ecology, chemistry, geology) helps you find opportunities and know what you're doing. A master's degree and independent research in these specialized subjects are helpful if you want to be an expert in the field. Many who work with the park service's Inventory and Monitoring program have specialized degrees based on the study of certain organisms, such as plants (botany), insects and other invertebrates (entomology), or microscopic organisms (microbiology, for one). Some people also have more general degrees that look at how these individual parts fit together in the landscape as a whole: geographers and landscape ecologists look at trends over the landscape. Essential to all of these positions is an interest in taxonomy: knowing how to identify what you find in the field. If you're fascinated by the health of individual creatures or how a complicated ecoystem works, a career inventorying and monitoring their health may be for you.
Gaining other experience: Showing that you are interested in not only the excitement of field discovery but also the detailed, long-term identification of what you find is vital. You can gain experience for a career through internships and seasonal jobs. Also, check out the Federal Jobs website for current, competitive job openings: search for the biotech positions that have your level of education as a qualification. You may not start out working directly doing inventory and monitoring, but jobs that familiarize you with catching and identifying different forms of life--fish, insects, plants, etc--will help you gain experience. These jobs may also help you gain entry level jobs or a spot in a college, Master's, or PhD program.
Good luck, and have fun!
Return to Dispatches from the Field: Issue 7.
Last updated: September 29, 2015