Partner Profile: Documenting Elkmont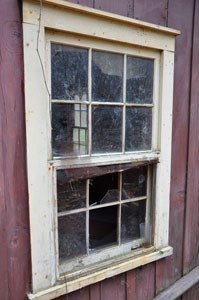 We begin photographing at one of the most isolated cabins in Elkmont.
Unlike many of the others that stand along the road, this one sits at the end of a wooded path crisscrossed by fallen pines. Its broken window panes reflect a grey sky, and a sagging porch, once a shady haven, clings to its back. Many of Elkmont's cabins, summer homes, stables, and hotels were built in the early 1910s and 1920s, and by now, many have decayed beyond repair. Porous roofs have let water seep in and turn floorboards to rotten wood mush. People breaking into homes have snapped locks and splintered doors, as well as looted household goods and even fragments of the buildings themselves. Structures in this condition usually have to be torn down because they are too dangerous to enter, let alone restore. Several of the structures in Elkmont that are in better condition—often the ones with metal roofs—are possible candidates for historic preservation.
Today, James Rosenthal is entering each of the dilapidated and rotted-beyond-repair cabins to take photographs
, because they are important to document for posterity even if they can't be physically saved. James is a photographer for the Historic American Buildings Survey/Historic American Engineering Record/Historic American Landscapes Survey (HABS/HAER/HALS), a long name for a Division of the National Park Service that preserves images and history of the nation's buildings. Every historic structure that the federal government—and therefore the American people—owns must be documented through photographs so we know what resources exist. That documentation is carefully archived in the Library of Congress.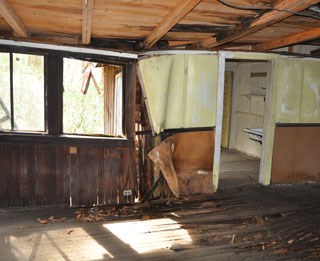 James enters the cabins tentatively
. In some, the floorboards bend under our feet; in a few, they snap and James ends up breaking through, and standing on the dirt below. Some cabins stand on stilts high above Jakes Creek; in these, James is very careful to watch where he steps, checking for the slightest sogginess that could send him falling 30 feet to rocks below. After he's sure a floor will hold, he sets up portable flash lighting to illuminate the interior details of the home: the woodwork, the care that fingers took in laying a brick fireplace, and the natural light streaming through windows onto well-worn floors below.
Even though these particular houses won't be preserved, James says he treats them the same way he would any fine example of architecture. That's where the science comes in: it's in the process of documenting and creating a comprehensive photographic document that represents the essence of a home and those who built it, regardless of its grandeur.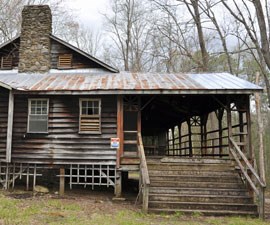 There are several clusters of homes at Elkmont
: Millionaires' Row, Society Hill, and Daisy Town among them. The park is restoring and preserving 18 homes for future generations, primarily in Daisy Town, the area around the lodge, which will also be restored. Cabins that will be preserved only on film will join an impressive historic collection at the Library of Congress going back 75 years.
After graduating from Goucher College with a degree in Historic Preservation, James fine-tuned his craft working as a laboratory technician processing and printing images for Jack E. Boucher, HABS/HAER/HALS' longest-tenured professional photographer.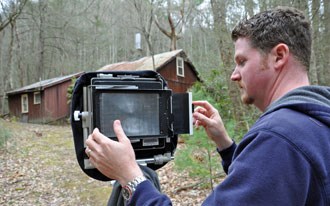 James takes photographs the old fashioned way: with a large-format view camera that itself is a work of art. It is simple yet sturdy: a metal frame with bellows (leather that folds, accordion-style, and keeps out light) perching on long tripod legs. James slides a single large-format negative holder in, ducks under a black cloth to view the image on the ground glass inside the camera, then sets the shutter to snap open the "eye" of the camera lens. In that instant, the 5 x 7 inch, silver gelatin negative is exposed to the light and the image of the cabin—or chimney, or screen porch—imprints indelibly onto film. Photographers still use silver film because it is very stable: in the archives, it can last up to 500 years, a measure of its "archival stability." Digital photography may be more convenient, but it has not been proven to have the same archival stability as film. All of the today's negatives will be scanned at high resolution; the negatives will be stored at the Library of Congress, and the digital images that result will be available to the public online at the American Memory website of the Library of Congress.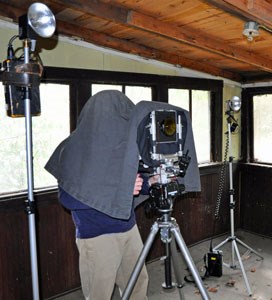 The large-format camera is the key to photographing buildings; no other camera can match its ability for documenting historic structures large and small. In service at HABS/HAER/HALS since 1964, this German-made Linhof mono-rail studio camera takes a type of photograph that has existed in some form for 160 years, going back to the origins of photography itself. Instead of having to tilt the camera up to include the tops of buildings in the frame, the photographer levels the camera, then slides the camera's lens up or down on vertical rails. The advantage: there is no distortion near the top of buildings that make structures look as if they were tapering to a point. Straight, clean lines mirror what the eye would see, and architects who make drawings based on the photographs can measure each piece of the building accurately.

Also captured on film is the essence—some would even say soul—of the buildings themselves. For over 75 years, HABS/HAER/HALS has documented the buildings that have housed our country's industry, great thinkers, and history.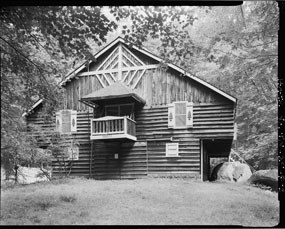 When James gets back to Washington D.C. and develops his negatives
, the rest of the staff at HABS/HAER/HALS will begin their work to fully document the details of the buildings.
There are three divisions at HABS/HAER/HALS that work together to document historic structures:
Photography

– photographers take pictures—from all angles—of each of the buildings included in different historic preservation programs. Photography can be the most cost effective documentary tool in the whole program. Even though photographers like James Rosenthal have to travel, spend days or even weeks on site learning about the area and exploring its historic merits, it is ultimately faster to compose a photo, click the shutter, and move on than it is to hand-draw every brick or shingle on a building. Sometimes these photos serve as the basis for more detailed, ink-line hand drawings. Sometimes, if cost is a factor, projects are documented with photographs alone.

Architectural drawings

– architects of the HABS/HAER division create intricate "as built" line drawings from on-site field recording to show a building in its current state. The building could be a grand mansion, falling-down house or caved-in industrial site. Drawings show these conditions because it's important to document the resources as they are, rather than how they were in their prime.

Historical research

– historians collect all the information they can about a building's history: how much money it cost to build, how different or similar it is to others in the area, who built it, the method of construction that architects used, and more. Even though telling the story of buildings sometimes means talking about the people of the time, the focus is primarily the history of the physical building itself rather than what happened in it.
Preserving America's history takes many dedicated people, and it includes those you never see and may never even know exist. But when portions of Elkmont is restored—keeping intact cabins that represent the grand era of early 20th century life in the Smokies —the entire area can live on through photographs, drawings, and texts that tell its story.
Return to Meet the Managers: Cultural Resources.

Return to History and Culture main page.
Last updated: November 12, 2015