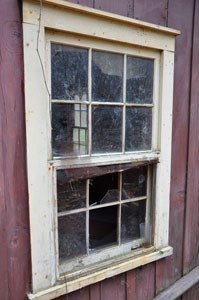 We begin photographing at one of the most isolated cabins in Elkmont.
Unlike many of the others that stand along the road, this one sits at the end of a wooded path crisscrossed by fallen pines. Its broken window panes reflect a grey sky, and a sagging porch, once a shady haven, clings to its back. Many of Elkmont's cabins, summer homes, stables, and hotels were built in the early 1910s and 1920s, and by now, many have decayed beyond repair. Porous roofs have let water seep in and turn floorboards to rotten wood mush. People breaking into homes have snapped locks and splintered doors, as well as looted household goods and even fragments of the buildings themselves. Structures in this condition usually have to be torn down because they are too dangerous to enter, let alone restore. Several of the structures in Elkmont that are in better condition—often the ones with metal roofs—are possible candidates for historic preservation.
Today, James Rosenthal is entering each of the dilapidated and rotted-beyond-repair cabins to take photographs
, because they are important to document for posterity even if they can't be physically saved. James is a photographer for the Historic American Buildings Survey/Historic American Engineering Record/Historic American Landscapes Survey (HABS/HAER/HALS), a long name for a Division of the National Park Service that preserves images and history of the nation's buildings. Every historic structure that the federal government—and therefore the American people—owns must be documented through photographs so we know what resources exist. That documentation is carefully archived in the Library of Congress.