The future of black bear research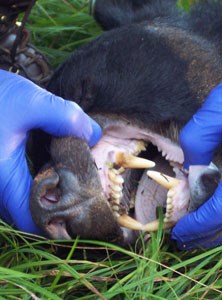 It may seem as if we know all there is to know about bears after over 40 years of study. As Dr. Frank van Manen explained, we do have a pretty good handle on the natural history of bears, but it's really just been in the last 10–20 years that we've started to understand the long-term dynamics of the black bear population in the Park. In the past, van Manen said, we've seen huge forest changes, such as the loss of the chestnut tree due to Chestnut blight. But we have no idea how the loss of this major food source affected bears. We have huge forest changes coming up, too: the loss of the hemlock which will change habitat dramatically. Maybe this change will be positive for bears, because it will open up new habitat for berries and other soft mast foods to grow. And maybe it won't—we don't know. For this reason, we need to have ongoing population studies. Monitoring allows us to look at things and timelines that others can't. Keeping track of bears over time will allow us to see the impact of ongoing events, which managers need.
Keeping track has not only been useful for future planning in the Smokies, it has also helped bears in other protected areas. Based on the long-term database, researchers constructed a "habitat suitability index model"—a computer model that figures out the best conditions for a bear, based on the conditions it has liked in the past—and developed new release techniques for bear reintroductions at Big South Fork National River and Recreation Area in Kentucky and Tennessee.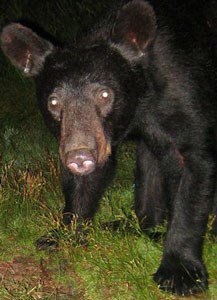 Great Smoky Mountains National Park has been lucky to have a long-term collaboration with a nearby university and passionate researchers. The biggest challenge of such long-term studies comes down to sustained funding, which is difficult to obtain. We hope bear research (and funding) will continue, because vital questions remain. Frank van Manen sees one particularly burning question: "How do we conserve biodiversity in a place like the Smokies," van Manen asked, "given the tremendous pressure we'll have on our resources in the next few generations? The Smokies is at the forefront [for considering issues such as] development, pollution, pests, and recreational use. You name it, and it's there. We need to design research that will find ways to preserve resources for the future generations. We can't do so for all species but we can use species like the black bear, which acts as an 'umbrella species' for management of many other species."
If you'd like to be on the forefront of asking key questions in the Park, you can. Become a Volunteer in Parks, or if you're in school, check out the "For those in school" page for links about degrees and careers in wildlife research and management. You can also help to support scientific endeavors by contacting your congressional representative and voting for initiatives to support education and science.
More about the Scientist:
As a Research Ecologist, Dr. Frank van Manen has spent a lot of time up close and personal with bears. Originally from the Netherlands, Frank came to the United States to work with Mike Pelton, a bear ecologist at the University of Tennessee. He quickly became involved in the long-term bear research and monitoring program. He now works for the United States Geological Survey (USGS) in close collaboration with the National Park Service. "What drives me," Frank said, "is the hope that I can have an impact on protecting natural resources in the Smokies."
His favorite part of the job is "being out in the mountains. It's a luxury to get paid to be out in the field. The Smokies are incredible. The second great aspect is that we're always driven by helping in the management of carnivores, which is an interest that goes beyond bears for me. I'm hoping what we learn here will be able to be applied to other areas where the need for protection is much higher. Van Manen is also doing research on red wolves, Florida panthers, and several other species and has been involved with bear and mammal studies in other countries (sloth bears in Sri Lanka, Andean bears in Ecuador, and giant pandas and other large mammals in China).
Last updated: April 14, 2015