Inventory & Monitoring Research & Projects: February-March, 2009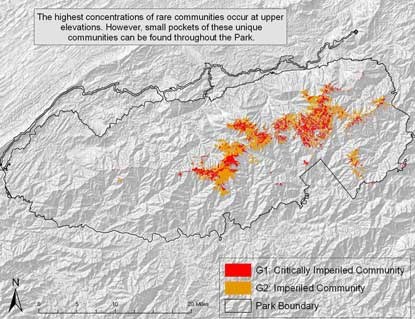 Mapping Rare Natural Communities
Most people understand that a species can be considered rare if there are only a few individuals left, or if it's only found in a small geographic area. But many do not realize that associations of plants and animals – called natural communities – can be rare as well. A natural community is a group of species that tends to re-occur across a landscape in similar habitats. Usually plants are used to describe and delineate communities because they form an obvious structure: we can see them, they stay in one spot from day to day, and they grow slowly. A particular natural community may be abundant and occur across a large section of North America, be scattered in a region, or even exist just in a few square miles.

The National Park Service uses a 5-level, global rarity ranking system developed by NatureServe, a non-profit scientific organization that works with all 50 states and federal agencies to rank rarity for species and natural communities (among many other activities). Using the number of known occurrences, scientists rank a species or community from "G1- critically imperiled globally", up to "G5 –demonstrably secure globally."

The Great Smokies are a group of mountaintop "islands" that protrude to elevations not attained elsewhere in the eastern North America. On these unique islands we find associations of natural communities that are rare regionally, and sometimes globally. For instance, Southern Appalachian Grassy Balds are ranked as "G1" since only a handful of them occur, and they are disappearing due to forest encroachment. High elevation beech forests, Carolina Rhododendron-Sand Myrtle Heath Balds, and Southern Appalachian Acid Bogs are several other natural communities that occur in the Park and are critically imperiled globally.

We classify natural communities using plants rather than animals, for reasons mentioned above, but there is usually a set of animals associated with those communities, too. Animals that are tied to a natural community—meaning they have to live there because their food and habitat are found there—are called obligates. At a glance we may miss the moss spider or algae obligates in a rare community, but they are important from an ecological perspective and when we're considering all that we lose if that community disappears.

By the same token, not every rare community contains rare, threatened, or endangered species. Rare communities often host rare species, but this is not always the case. Sometimes rare communities are just rare in the regional landscape, but are found in many places around the country or world. And sometimes it's hard to tell where the rare community stops: some closely related communities blend imperceptively into one another, complicating conservation decisions about protected area boundaries or global-rarity-designations.

The Park has a number of rare communities, and is currently reviewing their status and producing a park-wide delineation of where they occur, so as to tract status and prevent inadvertent management actions which would degrade them. Of the 79 community types that occur in the Park, 11 are critically imperiled (G1), 17 are imperiled (G2), 15 are vulnerable (G3), and 40 are secure or apparently secure (G4, G5).
Return to Resource Roundup: February-March, 2009.
Last updated: April 14, 2015