The search for Sweet pinesap
Plants > The search for Sweet pinesap
Sweet pinesap, we found out on a warm spring day, is elusive. Each of us—the park botanist, vegetation ecologist, and science communicator—dutifully checked the field guide photos before we left to note the stubby flowers this plant sends up through the leaf litter. Although rare and small—just about thumb-height—Sweet pinesap (Monotropsis odorata) is distinctive. For one thing, it blooms a deep pink against the decay of the forest floor. For another, it sends out a rich, sweet smell that lingers in the sun-warmed air like a cloud of perfume. Monitoring Sweet pinesap, which is a Tennessee state threatened species, is part of the park's mission to preserve and protect its natural resources. We set out with a map and an approximate location of where the flower was found the previous year. Sure enough, after a couple miles trotting along trillium-speckled hillsides, we smelled it. It was unmistakable and heavy-sweet, like honeysuckle wearing rose perfume. We dropped our bags and started looking.
Sweet pinesap is rare because it prefers a very specific type of forest. It needs a certain depth of leaf litter—not so deep that it can't poke through in the spring, and not so shallow that it is exposed in the last frosts of winter or eroded away in the first downpours. In fact, the sweet pinesap is very particular in its habitat as well as its character: unlike any other flowers in the Smokies, it doesn't leaf out at all. Instead, it is mycotrophic, eking out a life by being a parasite on an unassuming root-dwelling fungus. This is not a flower that you'd grow in a pot, or pick for a bouquet: rather, this is a wild shoot that, if you're lucky, you glimpse during the showiest phase of its life cycle.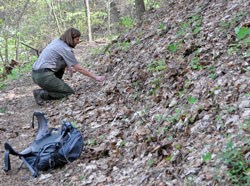 After a half hour of sniffing and searching on our hands and knees, we weren't sure we were going to be very lucky. We spotted thick snails chugging through the leaf litter, tiny puckered morel mushrooms, dazzling green spiders, and a rainbow of wildflowers—except, that is, the one wildflower we sought. The whole time we looked, that tantalizing perfume wafted through the air, sometimes fading as we walked out of an invisible range, then rushing in, rich and warm on a breeze down a forest slope.
We never found the flower, but we mapped the range where its sweet smell hung the thickest. Was this a wasted morning? From a tangible results standpoint, yes. From a science standpoint, no. It was valuable in that we gained a close-up look at the trees, fungi, soil, slope, and many creatures—from songbirds to foraging bumble bees—that share the sweet pinesap habitat. And we formed a few new questions, which are, often, of greater value in science than easy answers. Before we return to the site we'll be able to research the plant: if this flower is perennial (returns year after year) and grew abundantly here last year, where did it go? Why was the smell that our botanist and ecologist knew so well as Sweet pinesap there when the flower was not? Does the plant send out a scent before it emerges from underground, as baking bread does when it tempts us, half-done, from the oven? The Sweet pinesap site will be one for further investigation—and hopefully further discovery—in spring seasons to come.
Last updated: April 14, 2015