Restoration of Native Vegetation & Landscapes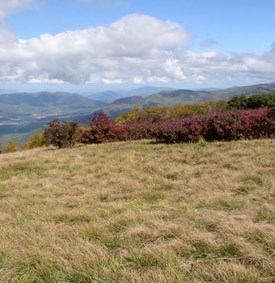 All over the park, we see landscapes in flux: once-logged forests are maturing, streams that were straightened are meandering, and homesites once cleared for gardens and yards are growing over with brambles and flowers. The story of the Great Smoky Mountains' forests and fields intertwines with the story of human settlement here. Once the human disturbance is gone, native vegetation often returns unaided. Sometimes, though, park employees need to actively manage landscapes that have been altered by past (and current) human activity, in order to restore native species and the habitat they provide.
To restore landscapes, vegetation managers look to the human story of disturbance, and to similar landscapes that can tell them which native species existed before logging, farming, clearing, or draining. Then they collect seeds from native plants—often a tricky, time consuming business—from nearby places in the park, and mix them so plants are represented in the right proportions.
Restoring native species is important for several reasons:
To preserve native wildlife—All of the animals you come to see in the park evolved to fit in certain ecological "niches," which includes eating specific species of plants (or the animals that ate those plants), and using those plants for shelter
To restore plants into native nutrient cycling, often re-instituting links in a chain connecting soil, fungus, microbes, and other plants in ways we don't yet fully understand
To provide visitors with a view of undeveloped Appalachian landscapes
Some landscapes currently being restored or re-vegetated:
Cades Cove—meadows and wetlands
Foothills Parkway
Gregory and Andrews Balds
Bridge at Straight Fork—plant salvage and propogation
Areas in the Park disturbed for utility, bridge, or road construction
Return to Meet the Managers: Issue 1.
Last updated: April 14, 2015