Focus On... Changing landscapes: restoring native communities & monitoring forest dynamics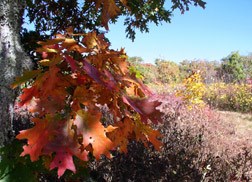 Many things have changed the landscape in the Great Smoky Mountains over the past centuries. Because we're in a National Park, we're not usually concerned with restoring landscapes that have changed due to fire, wind, flood, landslide, or drought, unless of course they pose a safety issue. We are often interested in restoring landscapes that people changed, because those changes can reduce the number and diversity of native plants and animals. Logging, farming, clearing for homesites, and planting species from Europe and Asia are all examples of human changes to the landscape that vegetation managers need to address.
Return to Dispatches from the Field: Issue 1 to go into the field with NPS scientists and partners.
Last updated: April 14, 2015