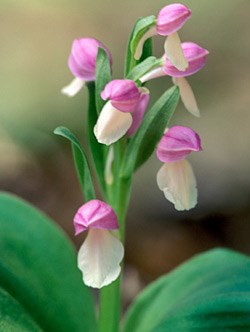 Orchids are a special species of wildflower that have a 'symbiotic' or cooperative relationship with the fungii in the forest around them. This relationship is very important for the survival of the orchid. The fungii give nutrients to the orchid's seeds, and the orchid's roots help to protect the fungii. There are 36 species of orchids in the Great Smoky Mountains. These are some of the more commonly seen orchids:

Showy Orchis- Gelaris spectablis
Showy orchis is a spring wildflower. They have two long and egg-shaped basal leaves with the flowering stalk itself having no leaves. Each flower has a pink or lilac hood with a white lip.