Caves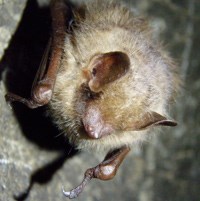 Entry into caves or mine shafts in the national park is prohibited.
This closure has been initiated due to recommendations issued by the U.S. Fish and Wildlife Service concerning white-nose syndrome (WNS) in bats. The U.S. Fish and Wildlife Service estimates that more than 5,700,000 cave dwelling bats have died from white-nose syndrome, and many more bats are at immediate risk.
Wildlife managers are concerned about the outbreak because bats congregate by the thousands in caves and mines to hibernate during winter months. This behavior increases the potential that the disease will spread among hibernating bats. In addition, hibernating bats disperse in spring and migrate, sometimes hundreds of miles away, to spend the summer.
WNS has affected seven species of bats, including endangered Indiana bats and gray bats, raising concerns about the impacts on these species already at risk. Other affected bat species in the park include the tricolored bat, northern long-eared bat, big brown bat, eastern small-footed bat and little brown bats.
Scientists believe that WNS causes bats to lose fat reserves, which they need to survive hibernation. Bats with WNS act strangely during cold winter months when they should be hibernating. They fly outside during the day, possibly looking for food, and cluster near the entrances of caves and other hibernation areas. Bats have been found sick and dying in unprecedented numbers in and around caves.
For more information about white nose syndrome in bats, please read Cave Bats in Crisis or visit the US Fish and Wildlife Service website at https://www.whitenosesyndrome.org/
Permit for Scientific Research

Please visit the National Park Service's
Research Permit and Reporting website
for information regarding scientific research permits. If you have specific questions pertaining to research projects in the Smokies, please
e-mail
or call (828) 926-6251.
Last updated: August 6, 2015