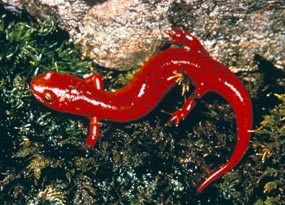 Two major groups of amphibians occur in the Great Smokies: the salamanders (30 species) and the frogs and toads (14 species). You can see where to find many of these amphibians on the Species Mapper. Check out the Amphibians Checklist for scientific and common names.
Salamanders
The Great Smoky Mountains are known as the "Salamander Capital of the World!" Salamanders are an especially abundant and diverse group in the Great Smokies. In fact, the great majority of vertebrate (backboned) animals, including human visitors, in the park on any given day are salamanders.
Five families of salamanders are represented in the park: Cryptobranchidae, Proteidae, Salamandridae, Ambystomatidae, and Plethodontidae.
The southern Appalachian Mountains, including the Great Smokies, are a major center of evolutionary diversification for the family Plethodontidae, commonly known as the lungless salamanders. There are 24 species of lungless salamanders in the park. The family has undergone an extraordinary level of evolutionary diversification in the southern Appalachian Mountains. As their family name implies, these salamanders lack lungs. They "breathe" (exchange oxygen and carbon dioxide) through the walls of tiny blood vessels in their skin and linings of their mouths and throats. Lungless salamanders occur everywhere in the Great Smokies, in and along streams and under rocks, logs, and leaf litter in the forests.
Salamanders are commonly called "spring lizards" in the southern Appalachians. Lizards and salamanders are, however, very different sorts of animals: salamanders are amphibians while lizards are reptiles. The skins of salamander lack scales and are moist or slimy to the touch. Their eggs are surrounded by clear jelly. Lizards on the other hand, have scales on their skin, and are dry to the touch. They lay eggs with leathery shells.