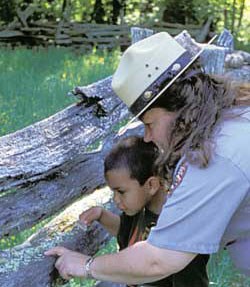 Bring the whole family for a hands-on exploration of the diversity of life within the Great Smoky Mountains National Park. Together, you will discover the wonders of the Smokies and learn of ideas to preserve natural and cultural treasures in your own backyard.
During spring, summer, and fall, ranger-led programs suitable for children are offered. These programs offer children an opportunity to explore and learn about the park. Read through the schedule of ranger-led programs to find programs especially for children.
Kids—if you're between the ages of 5-12, you can become a Junior Ranger! Learn how!