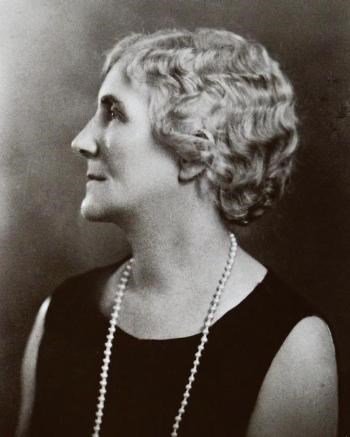 Mayna Treanor Avent
One of Tennessee's first recognized female artists, Mayna studied art at the Academie Julian in Paris, France, a school whose alumni included Henri Matisse and Diego Rivera. The Academie Juilan provided a liberating and supportive environment for Mayna to study painting. She later also worked on carved woodblocks to create prints. A progressive figure, Mayna enjoyed painting all kinds of subjects, including people of different ethnicities and economic status. Her portraits were praised by museums and art critics due to the level of understanding and compassion revealed in her paintings.
In 1918 Mayna's husband, Frank Avent, purchased a small one-room cabin near the Elkmont community known as "Daisy Town." Originally built in the mid-1800s, the cabin
was modified in 1926 when a large window was installed to allow more light into the room for Mayna to work.
The inspiration that Mayna found in the Great Smokies is found by millions of visitors today. And the cabin, now known as the "Avent Cabin,"

still stands today

in Elkmont

as a reminder of a place where anyone can be moved by the beauty of nature.