Gettin' By In Winter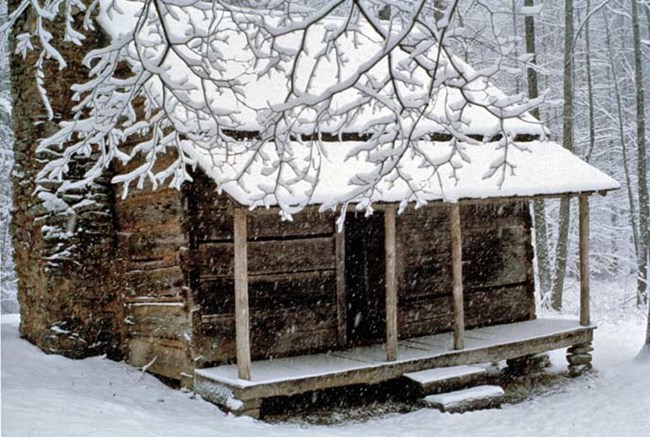 What did mountain families do to get by during the long, gray days of winter?
Cabin Fever
The homes of mid-19th century farm families were small, while the families themselves were often large. The typical log home was 18' x 20' (360 square feet) plus, perhaps, a sleeping loft. Families were frequently multi-generational, including a grandparent and five to 12 kids.
During periods of cold, snowy, or rainy weather, families were forced to spend most of the day indoors. Dorie Woodruff Cope, who spent her childhood and young adulthood in the Smokies, described winter this way:
"So we waited. Snow came two or three times a week to add inches to the blanket already on the ground. Silence hung over the mountains like a misty fog.... Wind whistled around the corners of the cabin and down the chimney, causing the fire to reach out of the fireplace and fill the room with ashes. Ma kept beans and meat boiling in a kettle."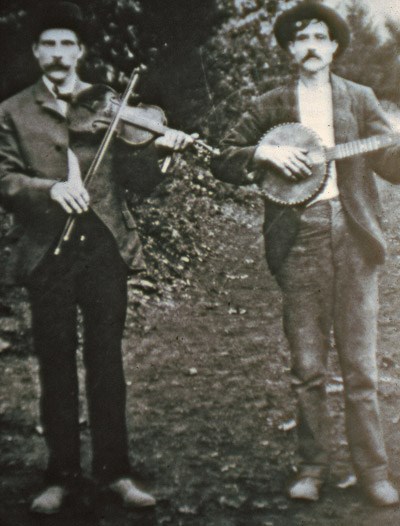 Making Music
Mountain folk knew lots of songs and enjoyed singing ballads at home during winter, often solo and unaccompanied by musical instruments. Many of the ballads were from the British Isles and were about love or death, or religious faith. Ballads told stories and sometimes included lessons on life. Examples are "The Drunkard's Last Drink," "Barbara Allen," "Pretty Pollie," "Geordie," "Young Hunting," and "Bold Soldier."
Some residents wrote their own ballads about local places or events, like the tragic train wreck chronicled by "Daddy Bryson's Last Ride."
Winter Fare
Mid-1800s Smoky Mountain winter fare was somewhat lacking in fresh produce, but few complained: it was a whole lot better than having nothing to eat.
If the crops had been good, the livestock prolific, and the jobs of pickling, drying, salting, and sulfuring productive, the typical menu might include:
• lots of corn bread
• salted pork
• dried green beans
• pickled vegetables
• chicken
• potatoes
• chestnuts


• butter
• stack cake
• sulfured apples
• honey
• sorghum molasses
• squirrel
• corn mush
Lessons Learned
Winter days were often school days in the Great Smoky Mountains of the mid-1800s. Winter was when children were needed the least on the farm, so it was the logical time to hit the books.
In the early days, the school year lasted only 2-4 months. Parents paid about $1 per student per month to get their children educated. The money (or produce in lieu of cash) went to a teacher who often boarded with a local family.
Most students completed only 3-5 years of schooling, enough to learn to read and write and perform basic mathematics. By the early 20th century, however, Smoky Mountain schools and school years more closely resembled today's.
Two country schools are preserved in the national park. Little Greenbrier School is accessible in winter by the 0.7 mile Metcalf Bottoms Trail which begins at Metcalf Bottoms Picnic Area. Beech Grove School is beside the road in Cataloochee Valley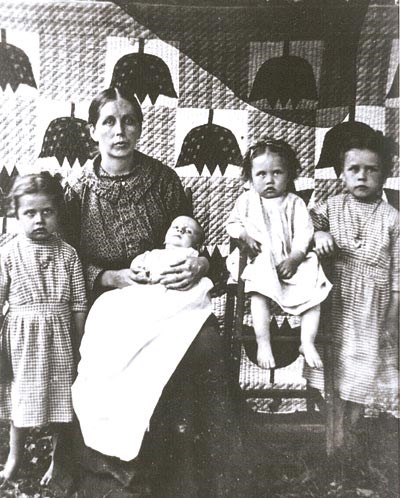 A Stitch in Time
Mountain quilts were often both useful and beautiful. The top layer was usually made from leftover scraps of cloth, worn out clothing, and cloth sacks. The middle was stuffed with pieces of old clothing, old quilts, feed sacks, or sheep's wool, and the bottom was simply whatever other plain material was available.
Popular patterns in the southern Appalachians were Log Cabin, Blazing Star, Double Wedding Ring, and improvised "crazy quilts."
Last updated: July 1, 2015