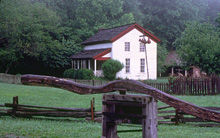 Stores Were Commercial and Social Centers in Great Smokies
Prior to the creation of the national park in 1934, thousands of people lived in dozens of communities in the Smokies. Along with schools, churches, and gristmills, many communities supported general stores. Historically, the local general store served not only as a banking and credit center and source for supplies, but also as a gathering place and recreation center. So great was its place in society, few aspects of life in the Smokies were not influenced by its presence.
When people hear the term "general store," the first thing that comes to mind is one-stop shopping. The local store carried the necessary staples for daily life such as hardware (nails, cartridges, cooking utensils), cloth, shoes, and bulk foods (flour, coffee, and salt), as well as luxuries, such as tobacco and candies.