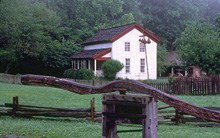 Stores Were Commercial and Social Centers in Great Smokies
Prior to the creation of the national park in 1934, thousands of people lived in dozens of communities in the Smokies. Along with schools, churches, and gristmills, many communities supported general stores. Historically, the local general store served as a banking and credit center, source for supplies, a gathering place and recreation center. The prominence of the general store in communities cannot be overstated.

The typical store was a wooden structure with one main room and a stock room. The store's owner had to maximize creatitivity in displaying his wares, using every available space.