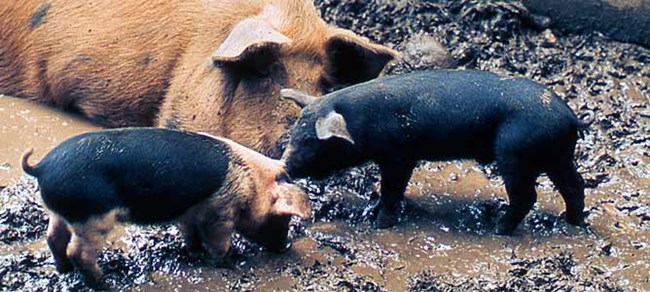 Historically, no farm animal better represents rural life in the mountains than the pig. It was by far the most numerous and prolific of farm livestock and was the most important source of meat.
The Oconaluftee area in the North Carolina portion of what is now Great Smoky Mountains National Park is a good example. According to the 1880 Agricultural Census, 59 families in the Oconaluftee portion of the Smokies reported owning a total of more than 830 pigs in 1879. Individual ownership ranged from as few as two to more than 50.
By comparison, the next most numerous livestock was sheep, with only about half as many. Hogs not only provided meat for the family, they were also often a source of additional income. As a cash crop, there was a big advantage to livestock—they could walk to market.
Pigs were the primary source of meat for mountain families for several reasons. For one, almost every part of the animal could be used. Secondly, pigs were self sufficient and could be raised at little cost to the farmer. Pigs were especially good foragers and were allowed to roam the forest in search of food. They would eat many things that other livestock could not. Hogs used their tough snouts or "rooters" to dig up plant bulbs, roots, and insects, and would also eat frogs, snakes, and lizards. In the fall, they feasted on chestnuts, acorns, and other wild nuts.