Civil War Journal: Thomas' Legion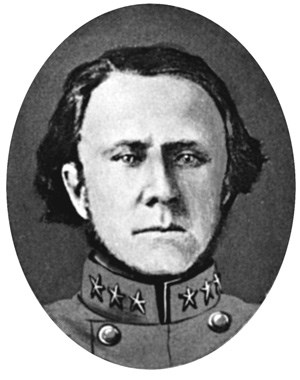 One of the central, and most fascinating, figures in the story of the Civil War in the Smokies was William Holland Thomas. Born in 1805 near Waynesville, NC, Thomas became an indentured storekeeper at age 12 at a rural mountain trading post where many of his customers were Cherokee. While so employed, the young Thomas befriended Cherokee Chief Yonaguska and learned the Cherokee language.
Times being hard, Thomas's employer elected to pay the boy in law books rather than cash. But Thomas was resourceful and he eventually became an attorney and then a legal and business advisor for the Quallatown Cherokee. From these humble beginnings he gradually assembled a massive business empire that included 100,000 acres of land, retail stores, mines, factories, two small turnpikes, and dozens of slaves.
Yonaguska adopted Thomas into the Cherokee tribe, and when the great chief died, Thomas was appointed chief of the Quallatown Cherokee. Not long afterwards, Andrew Jackson was elected President of the United States and he ordered troops to remove the Cherokee people to Oklahoma on the infamous Trail of Tears. But Thomas helped hundreds of the local Cherokee secure their own land and stay in Western North Carolina where their descendants remain to this day.
When the Civil War erupted, Thomas felt that people and businesses in western North Carolina would fare better as part of the Confederacy than they had in the United States. He was appointed the rank of Colonel in the Confederate army and rallied companies of men to fight with him. Not surprisingly, both white and Cherokee troops joined Thomas, forming an unusual and significant force referred to as Thomas's Legion.
Over the long course of the Civil War, Thomas's troops faced many of the same challenges as military forces elsewhere. Generals frequently assigned companies of Thomas's men to other fighting groups, including the Army of Northern Virginia. Many of Thomas's men deserted and went home because there was no one else to work the farm and defend their families against raiders.
The Cherokee troops that fought under Thomas became increasingly feared by their enemies. They were famous for their skill and persistence in tracking escapees and bushwhackers.
On at least two occasions Thomas marched troops over the treacherous Smoky Mountains in winter to make a show of Confederate force in the pro-Union region of east Tennessee. In one of his better-known engagements, Thomas set up a semi-permanent fort on "Burg Hill" in the middle of White Oak Flats (now downtown Gatlinburg). His presence greatly agitated Union forces and they quickly organized a two-prong surprise attack. Thomas had stationed pickets who warned the Confederates of the advancing Union troops. After an hour of skirmishing in the steep terrain, Thomas was able to escape with his men back across the Smokies into North Carolina. No one was killed and only one of Thomas's men was captured. Of the 1863 battle, Thomas wrote "the enemy have at least been taught that while we hold the Smoky Mountains, western North Carolina and adjacent portions of east Tennessee are hard to subjugate."
Later that winter Thomas's men battled the Fourteenth Illinois Cavalry near present day Bryson City, NC. While both sides declared victory, the fight emboldened Union forces to more assertively cross the mountains into North Carolina. As late as 1865, Thomas fought to drive Union forces out of his hometown of Waynesville, but the successful effort actually occurred after the war had officially ended.
As was the case with many other Southerners, the post-war years were not kind to Thomas. He was deeply in debt and his business empire fell into ruins. His physical and mental health declined until his death in 1893. Still, many Cherokee and white veterans of Thomas's Legion remained proud of their service and they participated in Confederate reunions well into the 20th century.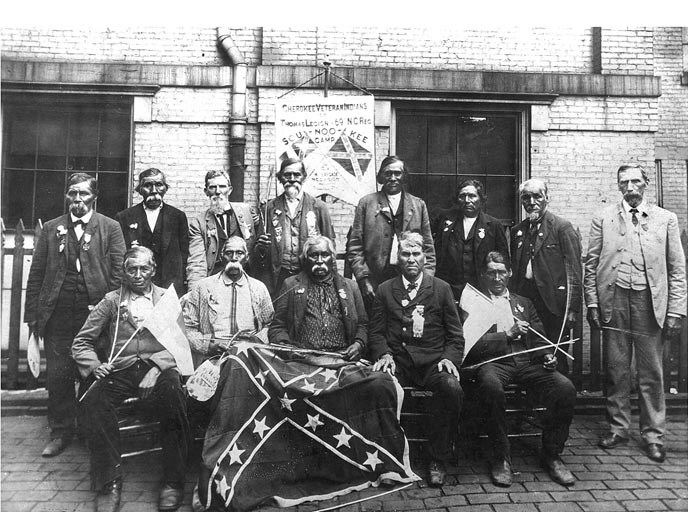 Read additional stories from the Smokies Civil War Journal:
Divided Loyalities
---
Recommended Reading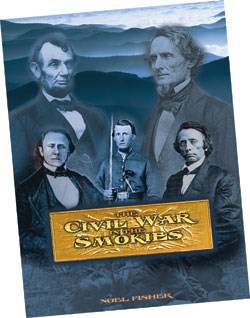 The Civil War in the Smokies
The area that is now part of Great Smoky Mountains National Park has a surprising and often untold Civil War history. As the author Noel Fisher puts it "This was a war where men rode to the house of a neighbor they had known for many years, called him to the door and shot him dead; where other men left homes and wives and children and trekked north in cold and rain to serve the army and cause of their choice; where still others served in poorly supplied, poorly equipped, nearly forgotten units to protect border and home..."
Last updated: July 13, 2015