Tennessee K-5th Grade Ranger-Led Field Trips
The following field trips are offered in the park in the spring and in the fall for elementary students. These free cirriculum-based programs provide hands-on learning experiences using the park's cultural and natural resources as teaching tools. To request a program, please complete Complete this Form. You also can contact the TN Education Office by email or phone (865-436-1258).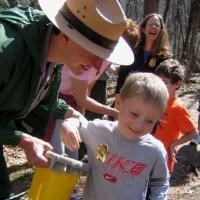 Kindergarten: Explore with Your Senses
Students will use their senses to learn about his special protected national park. Students will learn about he history and wildlife of Great Smoky Mountains National Park.
Locations: 1/4 mile from Sugarlands Visitor Center, Cades Cove near the campground
Tennessee State Standards: K.LS1.3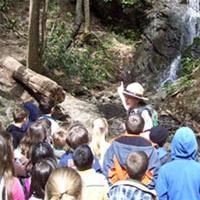 First Grade: Trees of the Smokies
NOTE: This program is currently "under construction" and is not available. Please consider the 2nd grade program about animal groups as an alternative.
Students examine the characteristics of plants, identify their parts and explore their relationship with pollinators. A short nature walk allows students to investigate how plants live in a forest ecosystem.
Locations: TBD
Tennessee State Standards: TBD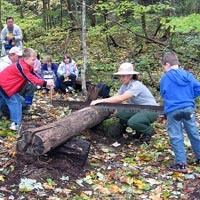 Second Grade: History and Culture
Students use a cross cut saw to recreate the experience of building a log home, learn how the forest was a supermarket and a drugstore and visit some structures that were part of the 1800's mountain community. Program includes a ranger-led walk where students look for clues of how humans used the environment.
Locations: Porters Flat (near Big Greenbrier), Elijah Oliver Home in Cades Cove
Tennessee State Standards: 2.NBT.B.5, 2.SSP.02, 2.SSP.05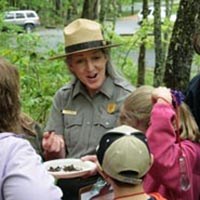 Third Grade: Adaptations
Students will discover how specific animals compete and survive in a forest or stream habitat. On a beautiful hike through the forest, students will learn how plants and animals can survive in relation to surrounding environmental factors.
Locations: Metcalf Bottoms Picnic Area
Tennessee State Standards: 3.LS1.1, 3.LS4.1, 3.LS4.2
Fourth Grade: Mountain Food Webs
Students investigate the relationships between species and the role they all play in a complex forest food web. While hiking to a waterfall, students will discover the hidden secrets in the forest understory along the way, revealing nature's balance through natural recycling.
Location: Cades Cove near the campground
Tennessee State Standards:
4.LS2.2, 4.LS2.3, 4.ESS3.2
Last updated: August 20, 2021