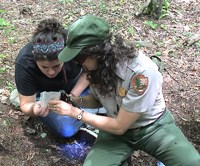 These programs challenge students with hands-on learning experiences that are correlated with Tennessee curriculum standards. Each program enhances classroom learning by using the park's cultural and natural resources as teaching tools. Students make real-world connections with science and history, while having fun at the same time! Watch a video overview.

All programs are free. To register for a program, call 865-436-1258 or email us. Please fax (865-436-1307) us your completed reservation form or attach it to your email to formalize your program request.
For a complete listing of all our Tennessee elementary grade programs, please download our program flyer. Program lesson plans containing pre and post-visit activities and on-site program descriptions are linked below.