Teacher Workshops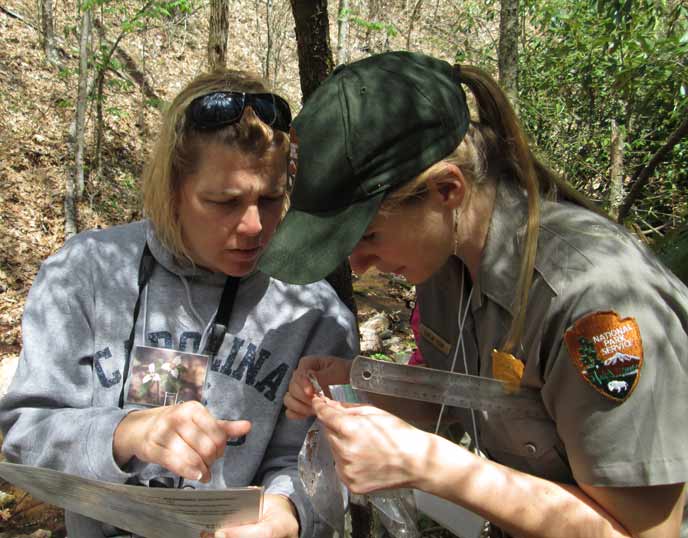 Upcoming Workshops
Citizen Science for the Classroom - Air Quality & Climate Change
October 14-16, 2016 at Tremont
Citizen Science is perfect way to bring the scientific method into the classroom. Participate in several projects, some national and some more regionally specific developed to monitor resources in Great Smoky Mountains NP. Learn how you can use citizen science to teach students how to ask good scientific questions, analyze datasets and communicate their findings related to the topic of air quality and climate change. Meals and lodging included. Register through Great Smoky Mountains Institute at Tremont. The workshop is offered at the reduced educator rate of $75.
STEM in all Seasons
October 22, 2016 at the Knoxville Zoo
For more information, contact Julianne Geleynse at (865) 436-1713.
Got Elk!: Fall Research in the Smokies
September 30-Oct.2, 2016 in Cataloochee
Elk abound in Cataloochee Valley so spend the weekend with the recently reintroduced elk and participate in fall research projects that have easy application to your classroom. Participants will receive transportation, lodging and classroom materials. Register through the NC Museum of Natural Science. Cost: $85* (includes lodging, some meals and transportation to and from Raleigh)
Likin' Lichens
February 17-19, 2017 at Tremont
Spend a weekend discovering the beauty and wonder of lichens. We will learn identification skills, as well as how to use lichens to monitor air quality and as a habitat for microscopic invertebrates - including the charismatic microfauna extraordinaire - the waterbear. Workshop lasts from Friday supper to Sunday lunch. Includes all instruction, materials, meals and lodging. There is a $75 non-refundable registration fee. Register through the Great Smoky Mountains Institute at Tremont.
Spring in the Mountains
May 5 - May 7, 2017 at Purchase Knob, near Maggie Valley, NC
Great Smoky Mountains National Park is world-renowned for its diversity of wildflowers and salamanders. Explore the northern Hardwood forest and stream-side habitats for salamanders and the blooms of spring. Register with the NC Museum of Natural Sciences. This workshop costs $85 and includes lodging, some meals and transportation to and from Raleigh, NC.
Education Facilities
The Great Smoky Mountains Institute at Tremont is a residential environmental learning center located in Great Smoky Mountains National Park. Tremont offers workshops and programs for everyone, from teachers to grade school children to Elderhostel groups. Several special programs for teachers are offered including Teacher Escape Weekends, a Southern Appalachian Naturalist Certification series, and Science Teacher Institutes, to help you improve your teaching skills while enjoying the beauty of the park. For more information, call (865) 448-6709 or visit the Tremont website.
Tremont also offers the Southern Appalachian Naturalist Certification Program (SANCP) in
partnership with the University of Tennessee. Complete eight courses to earn a certificate in natural history and interpretative skills.
The Smoky Mountain Field School offers high-quality workshops, hikes, and adventures for people who want to enhance their enjoyment, appreciation, and understanding of the Smokies and the great outdoors. For more information and a schedule of programs, call (865) 974-0150.