Teacher-Guided Field Trips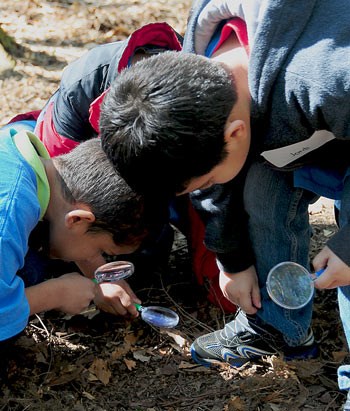 For Groups Planning an On-Site Program
Although these lessons are teacher-led, most are site-specific and you should first contact the park's education office to be sure no other groups are scheduled for your program site (TN:865-436-1258 or NC:828-497-1942). Please download the park map to identify potential field trip locations. If staffing allows, rangers may be available to welcome your students.
Suggested Learning Level
Theme

Suggested
Location

Kindergarten

Oconaluftee Visitor Center

Sugarlands Visitor Center

First Grade

Cades Cove Loop Road

Noah "Bud" Ogle Homesite

Third Grade

Little Greenbriar

Fourth Grade

Newfound Gap

Seventh and Eighth Grade

Sugarlands Visitor Center
FYI
If you are doing any collecting, inventorying or sampling, (such as chemical water testing, handling of organisms, or digging) you need to apply and receive a collection permit from our Resource Management and Science Division. Please allow one month for processing. If you have any questions regarding this process, please email our permit office.
Before visiting the park, please review the Frequently Asked Questions page. These common topics are worth a reminder and the park-specific details may make your trip more successful.
There is no guarantee that another group will not be utilizing the same location that you plan to visit. With the exception of picnic shelters, areas can not be reserved for the exclusive use of individual groups, therefore two or more groups may be sharing the same area. To learn more about the park's picnic areas and reservation system, visit our picnicking page
For groups planning to use these lessons without traveling to Great Smoky Mountains National Park
Many of the pre and post site lessons can be easily conducted on the school grounds or in the classroom. Some of the on-site lessons may be transferred to your area's public lands. You may also wish to supplement your lessons with additional information from the National Park Service web site at www.nps.gov
Last updated: July 1, 2021