Apply for Artist-in-Residence Program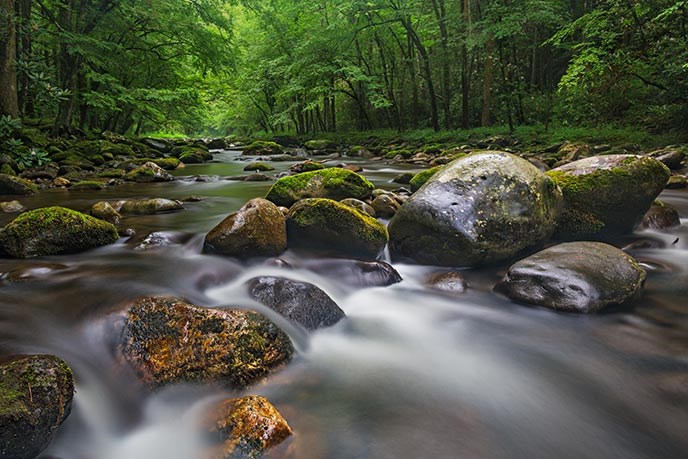 Artwork Donation
Each artist donates a mutually agreed upon piece of original work, representative of their stay in Great Smoky Mountains National Park (GSMNP) within one year of completion of the residency. The artwork is donated to park partner, Friends of The Smokies (FOTS), a non-profit organization that supports the park by raising funds and awareness. FOTS may offer the piece for consideration in the park's permanent museum collection, or sell it to raise funds supporting the Artist-in-Residence Program or other park needs.

Artists agree to share all copyrights for artwork donated to Friends of Great Smoky Mountains National Park, giving FOTS shared ownership and rights to reproduce it. The artist retains a non-exclusive use license and may make use of the artwork for personal and professional promotion using the language, "Produced under Artist-in-Residence Program at Great Smoky Mountains National Park".

Artist Participation as Volunteer-in-Park
Selected artists work with the Parkwide Volunteer Coordinator to develop a residency theme that makes it possible for the park to generate visitor awareness and enrichment opportunities. Artists are scheduled to facilitate three public programs tailored to their individual medium, experience and interests. These may be in the form of participatory workshops, hands-on learning, demonstration, performances, exploratory walks, outreach in classrooms and community, or another means of engagement that aligns with park protocol. Artists provide equipment and supplies needed to lead the programs.
When and How To Apply
Submit application materials and samples as indicated below. Insufficient or excess materials, may be cause for application rejection, as is proposed use of work already in progress through a residency.
A panel of professionals from diverse disciplines will choose up to 6 finalists. Selection is based on artistic merit, statement of purpose and appropriateness to residency at this national park.

Panel jurors give thoughtful consideration to each applicant's statement of purpose (proposal) regarding how their creative insight and offerings may be made accessible for park visitors, volunteers, staff and local community. Great Smoky Mountains National Park seeks to inspire people of all ages, backgrounds and cultures to connect and discover the meaning of national parks in their lives. Through our vibrant Artist-in-Residence program the park invites exploration, experience, innovation, education and stewardship.

Application Period:

December 2022 through April 2023
Spring/Summer/Fall Residency mid-June through November

All applicants must submit:
1. A Resume and Summary of Creative Works
2. Statement of Purpose: What do you hope to gain through time spent at Great Smoky Mountains National Park? How might you share your insight, experience and creative contribution with park visitors and people of the local community?
3. Three choices of beginning / ending dates for your stay. Residencies are a usually a minimum of 4 weeks, maximum of 6 weeks. Offer dates from June through November.

Visual Artists: Submit six digital images at 300 dpi (jpg or tif) on labeled CD/Thumbdrive. Include a list of images with title, medium and image size (height and width). Images should show only the actual work - Backgrounds, frames or mats should not be included.

Writers: Submit no more than ten double-spaced, typewritten pages of manuscript or electronic file in either Microsoft Word or PDF format.

Musicians / Performing Artists: Submit CD or DVD indexed to identify a 5 - 7 minute segment for jury review. If submitting MP3 files, include CD or DVD as back-up in case there are compatibility issues.

Composers: Submit CD or DVD (sound collage, track or orchestral work) indexed to identify a 5 - 7 minute segment for review. If submitting MP3 files, include CD or DVD as back up in case there are compatibility issues.

Mail Application Packet / Notification of Selection: The Artist-in-Residence Program, Attention: Parkwide Volunteer Coordinator, Great Smoky Mountains National Park, 107 Park Headquarters Road, Gatlinburg, TN 37738 -- Due to the number of submissions, applicants do not receive confirmation that their submission has been received by the park. Artists selected for a Residency will be notified in early May.

Last updated: November 9, 2022