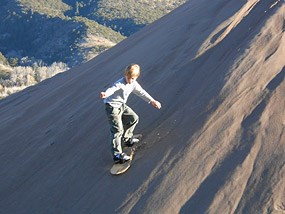 Sand sledding or sandboarding can be fun with the right gear and conditions. Below are tips for an enjoyable and safe sledding or sandboarding experience at Great Sand Dunes.
What Works
Yes: Sandboards and sand sleds are specifically made for sand, featuring a special design with extra slick base material and special wax; these work best for sliding in most conditions.
No: Snow sleds, snowboards and skis only slide on very wet sand after rain or snow. The sand surface is usually dry.
No: Cardboard, saucers, and soft plastic items don't slide on sand; they will dig into or drag on the sand.
No: Rectangles of rigid, ultra-slick plastic or masonite might slide, but are not safe: there is no way to control or steer them, and their angled edges could cause injuries

.
Safety
Plan your dunes time for early morning or evening during summer to avoid a 150 degree F sand surface or thunderstorms. In spring and fall, sand temperatures are usually moderate throughout the day, but spring afternoons can be very windy.
While Castle Creek Picnic Area (4WD only) provides close access to high slopes, sledders who can't stop may crash into the firm creekbed sand at the base. Instead, it is recommended to sled on the first high ridge of dunes, accessible from the main Dunes Parking Area. At the base of most dunes in this area is softer sand and a gentler runout to slow you down.
Sledding/Sandboarding has a high potential for injuries to occur if safety precautions aren't considered. If injuries occur, assistance from ranger staff may be required. Sledding beyond the first high ridge of dunes will make it more difficult to receive timely assistance.