Medano Pass Primitive Road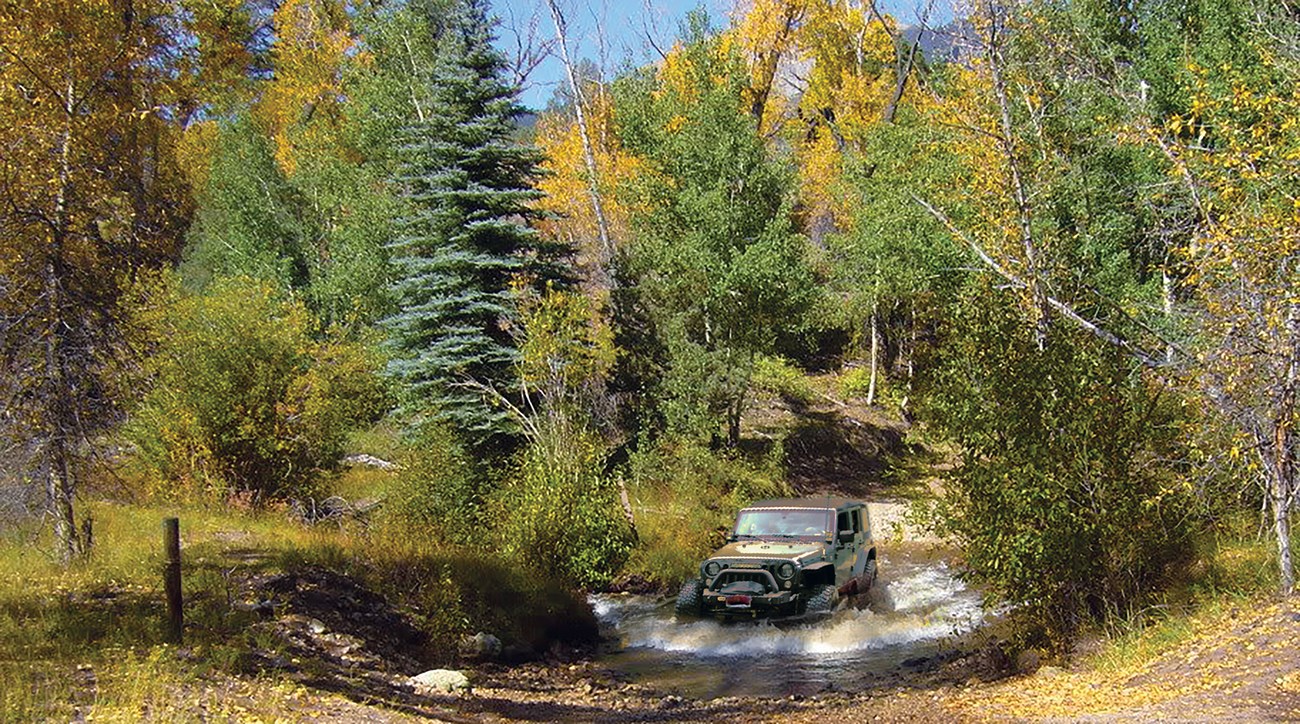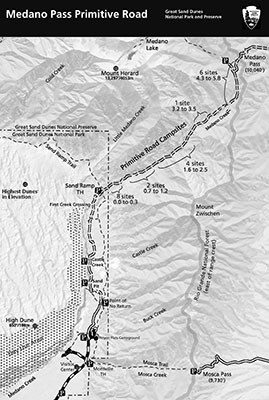 Current Road Conditions
Refresh this page for the latest update.

Updated May 30, 2023

Medano Pass Primitive Road is FULLY OPEN all the way over the pass.

The sand is currently average in moisture and firmness. Most high-clearance 4WD vehicles will make it through sandy sections without dropping air pressure. If needed for your vehicle, you may reduce tire pressure to 20 psi beyond Point of No Return. There is an air station at the southern entrance of the road, in the Amphitheater parking area. If you reduce air pressure and continue on into Medano Canyon, you will need your own air compressor to reinflate your tires. It is not recommended to drive the rocky roadbed beyond the sandy section with low tire pressure; wheel damage may occur.

Medano Creek peaked on May 26 and is now declining (see flow graph linked below). Creek crossings are moderate and decreasing, but still passable for most vehicles. Drive through water crossings slowly to prevent flooding your engine. There is soft mud higher on the pass.

The road typically closes by the end of November.
Current Level of Medano Creek
From Great Sand Dunes, the Medano Pass Road crosses Medano Creek nine times on its way to Medano Pass. See the current cubic feet per second (cfs) flow of Medano Creek (available spring through fall). Creek flow is typically highest at dawn, and lowest in late afternoon. Peak flow for an average season is about 40 cfs (cubic feet per second), typically occuring in late May and early June. The current cfs flow indicates the level of the creek relative to average peak flow of 40 cfs.

Medano Creek Information and Current Conditions

Check the park's weather page for the most accurate park forecasts.
Besides current conditions, there are many other considerations when planning to drive Medano Pass Primitive Road. Your type of vehicle, its clearance, its weight, the width of your tires, and your skill and confidence driving in sand, are all variables in driving this road.

For up-to-the-minute conditions, please contact the Visitor Center at 719-378-6395.

Reminders:
4-Wheel Drive (4WD) vehicles are required on this road. All-Wheel-Drive (AWD) vehicles, mini-SUVs, wagons, and similar vehicles with lower clearance will get stuck in the deep sand or creek crossings.
ATVs and UTVs and are not permitted anywhere in Great Sand Dunes National Park and Preserve. All vehicles must be highway-legal in Colorado. Colorado does not recognize ATVs and most UTVs as highway-legal.
Licensed motorcycles need to be registered as OHVs (Off -Highway Vehicles) when used on the Medano Pass Primitive Road. OHVs in Colorado must have an OHV sticker issued by the State of Colorado to ride on federal lands.

Annual Road Closure

: Every November, the road closes for the winter season the day following the end of the fourth rifle season- if weather conditions allow. The road fully reopens when weather

and road conditions allow, typically in mid-to-late May.
Contact the Visitor Center for the latest information and conditions: 719-378-6395.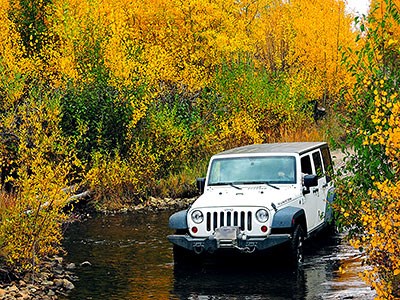 Overview

Map of Medano Pass Primitive Road (.jpg file, 1MB)

This is a rough 22 mile road connecting Great Sand Dunes with the Wet Mountain Valley and Colorado State Highway 69. Passable only in the warmer months and only with high-
clearance 4-wheel drive vehicles, it gives access to Medano Pass (elevation 10,040') and Great Sand Dunes National Preserve. This road crosses areas of deep sand, traverses Medano Creek nine times, and passes through excellent habitat for bighorn sheep. Average driving time for the entire primitive road is about 2.5 - 3 hours.

Reduce tire pressure to about 20 psi if the sand is dry and soft. A free air station is available near the south entrance to the road in warmer months between the hours of 7AM and 9PM. If you reduce pressure, you will need to reinflate using your own air compressor before driving over rocks in Medano Canyon. Drive through creek crossings slowly to avoid drowning your engine.
Mileage Chart
Set your odometer to zero at the southern entrance of the primitive road to follow along with this guide.
0.0
End of Paved Road: start of Medano Pass Primitive Road.
0.2
Garden Creek: flows until mid-summer
0.5
Buck Creek: intermittent stream
1.0
Sawmill Creek: flows until mid-summer.
1.1
Point of No Return: 4WD vehicles ONLY past this point. Sand Ramp Trail access.
1.4
Ponderosa Point Picnic Area: view of Mt. Herard (13,297') and dunes.
1.8
Sand Pit: DEEP SAND! Reduce tire pressure to about 20 pounds if sand is soft
2.6
Castle Creek Picnic Area: picnic tables, vault toilet. Park only in designated areas.
3.3
Horse Canyon: views of eastern dunes and foothills.
4.5
1st Crossing of Medano Creek: spring runoff can be very deep! Use caution.
4.6
Old Fire Road: closed to vehicles. 1/2 mile walk to ridge with good views.
5.0
Sand Ramp Trail: trail crosses road. Overnight backpacking permit required.
5.2
Park/Preserve Boundary: roadside campsites begin, numbered by mileage from
boundary. 8 campsites over next 0.3 mile.
5.6
2nd Crossing of Medano Creek
5.9
More Campsites: 2 campsites over next 0.5 mile.
6.1
3rd Crossing of Medano Creek: look for bighorn sheep in meadows and cliffs.
6.2
Herard family's 1870s homestead site (only foundation remains).
6.4
4th Crossing of Medano Creek
6.8
5th crossing of Medano Creek: 4 campsites over next 0.9 mile.
6.9
Tight squeeze: narrow roadway, boulders on roadsides. Use caution!
7.2
6th crossing of Medano Creek
7.7
Crossing of a Tributary Creek
7.8
Two alternatives: left side usually best.
7.9
7th Crossing of Medano Creek: road steeper ahead.
8.4
More campsites: 1 campsite within next 0.3 mile.
8.6
Creek Crossing of a Tributary Creek.
8.8
Beaver Dams: long meadows, marsh, and beaver dams.
9.0
Three Cabins: burned in 2010 wildfire.
9.5
More Campsites: 6 campsites over next 1.5 miles.
9.6
8th Crossing of Medano Creek
10.6
Creek crossing of a Tributary Creek.
10.7
Medano Lake Trailhead: trailhead at end of short spur road.
11.0
Irrigation ditch: steep section ahead.
11.2
Medano Pass: elevation 10,040' above sea level.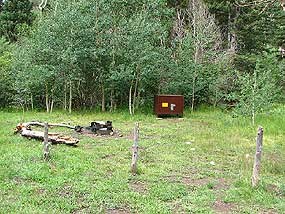 Medano Road Camping Information
Roadside camping is permitted only at 21 numbered campsites in Great Sand Dunes National Preserve beginning 5.2 miles from where the road begins near Piñon Flats Campground. These sites are indicated with a brown post and camping symbol, and are numbered by approximate road mileage from the Park/Preserve boundary to Medano Pass. Numbers in parentheses are approximate road mileage from Medano Pass down to the Preserve/Park boundary. Roadside car camping is only permitted in designated sites in the national preserve. Vehicle access to these sites is only available late spring through fall, depending on snow, creek, and road conditions.
These designated sites are free of charge and first-come, first-served. All 21 sites fill on summer holiday weekends, and often on other summer weekends.
Camping Regulations for Medano Road Campsites
Camping is permitted in designated, marked sites only in the national preserve. No permits are necessary.
Tents must be located within 40 feet of the front of the bear box at each site.
Pets must be leashed or restrained at all times.
Fires only in existing fire rings; put out completely with water. Gather dead and down firewood 4" or less diameter.
No off-road driving. Vehicles must be highway-legal in Colorado. Park only in designated campsites or parking areas.
Secure food, coolers, toiletries, and trash from black bears. Lock them in the bear boxes provided at most sites.
All trash, including orange peels, egg shells and toilet paper, must be removed. Bury human waste 6" deep.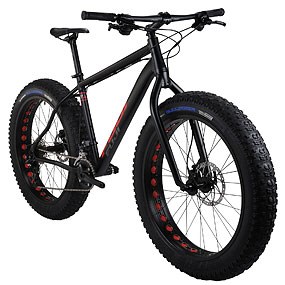 Fat Bikes
Fat bikes (mountain bikes with extra wide tires for sand) are permitted on the Medano Pass Primitive Road, both for day use and for overnight camping in Medano Canyon. Check current sand conditions (above on this page) before riding; if sand gets too soft and dry, travel may not be possible. Bikes are not permitted off-road.
You will be sharing the road with vehicles, some traveling at higher speeds in order to make it through sandy sections. For your safety, listen and watch carefully for vehicles as you ride.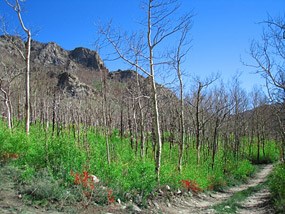 2010 Medano Fire
The road passes through some sections of forest that were burned in a 6,249 acre wildfire in 2010. Burned, standing trees may fall at any time, especially during wind. Upper sections of Medano Pass were not burned.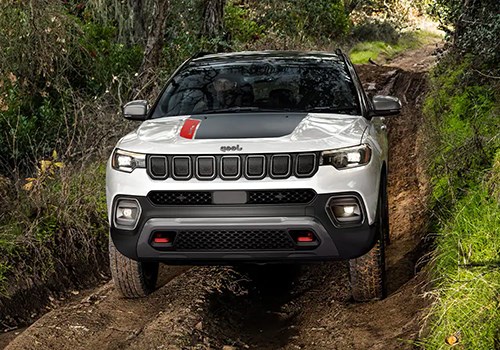 Jeep Tours and Jeep Rentals
For visitors that do not have a 4WD vehicle but would like to experience the Medano Road, there are companies that rent Jeeps and/or provide Jeep tours.

- Mountain Master Off-Road Tours provides Jeep tours. 719-588-9022

- Great Sand Dunes Lodge provides Jeep rentals. 719-378-2900