News Release
Stage 1 Emergency Fire Restrictions in Effect at Great Sand Dunes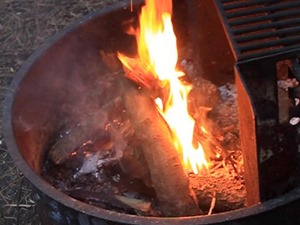 News Release Date:
May 20, 2022
Contact: Kathy Faz, 719-378-6341
The entire area within Great Sand Dunes National Park and Preserve is under extreme fire danger due to below-normal moisture conditions combined with unseasonably warm temperatures and windy conditions. The resulting low fuel moisture situation has created severe wildfire conditions and any fire ignitions may result in extreme fire behavior. Such conditions create a severe hazard to human health and safety and the potential for serious damage to park resources should a wildfire be ignited.
Effective May 20, 2022, Great Sand Dunes is under Stage 1 Fire Restrictions. These fire restrictions are implemented to reduce the risk of fire and protect park resources. The following restrictions are established under the authority of Title 36, Code of Federal Regulations, § 1.5 (a)(1) Closures and Public Use Limits, §2.13(c) Fires, and § 2.21(a) Smoking.
Under Stage 1 Fire Restrictions the following acts are prohibited:
1. Building, maintaining, attending, or using a fire or campfire, except within park provided, manufactured fire grates in developed recreation sites including the Mosca Creek Picnic Area, Pinon Flats Campground, Sand Creek backcountry site, and the 22 established campsites along Medano Pass Primitive Road.
2. Smoking, except in an enclosed vehicle or building or while stopped in an area at least three feet in diameter that is barren or cleared of all flammable materials.
Exemptions:
1. Any Federal, State or Local officer or member of an organized rescue or firefighting force in the performance of an official duty.
2. Persons using devices such as stoves, grills, or lanterns with pressurized gas canisters for isobutene or propane that include shut-off valves. These restrictions apply on all lands, roads, and trails within the National Park and Preserve, regardless of land ownership, including private property and inholdings.
Penalties:
Title 36 CFR § 1.5 (a)(1) Penalties: Any person who knowingly and willfully violates the regulations at § 1.5 (a)(1) of this title shall, upon conviction, be subject to a fine of not more than $5,000 or to imprisonment of not more than 6 months, or both. Restitution for total suppression or damage costs incurred will be borne by the trespasser.
These restrictions go into effect at 12:00 p.m. on May 20th, 2022 and remain until rescinded.
For questions about the fire restriction, please contact the visitor center at 719-378-6395 during business hours, 9am – 4:30pm.
Last updated: May 20, 2022