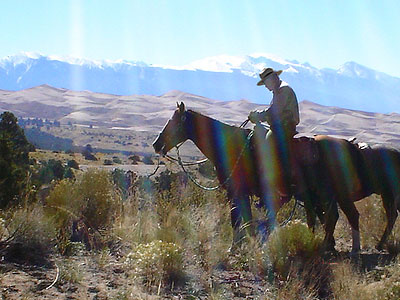 Missing Park Visitor Located
A search for a visitor missing 5 days ended last night when rescuers successfully located Bryan Skilinski approximately one and a half miles south of the park visitor center. Mr. Skiliniski was found in relatively good health considering he had spent five nights out in the elements with little winter gear. After becoming disoriented during his first day hiking in deep snow, he spent the remaining time trying to find his way back to his vehicle, covering many miles of terrain while exposed to snow storms, high winds and temperatures in the teens at night.
The search and rescue effort was initiated Thursday at Great Sand Dunes National Park and Preserve. An unattended vehicle located in the park's horse trailer parking lot along Medano Road since this past weekend alerted park staff to further investigate the location of the visitor. Further investigation identified the driver of the car as Mr. Bryan Skilinski from New York State. Mr. Skilinski first entered the park the morning of Saturday, February 11.
"We could not have asked for a better outcome and I want to personally thank all of the staff and search and rescue team members who provided their expertise in helping to locate Bryan" said Acting Park Superintendent, Scott Stonum. More than 28 people from multiple agencies and search and rescue groups assisted with the search efforts. National Park Service (NPS), Alamosa County Search and Rescue, El Paso County Search and Rescue, and Colorado Division of Fire Prevention and Control were engaged in the effort coordinated by NPS staff.
Media inquiries should be directed to Acting Superintendent, Scott Stonum at 719-378-6311.