News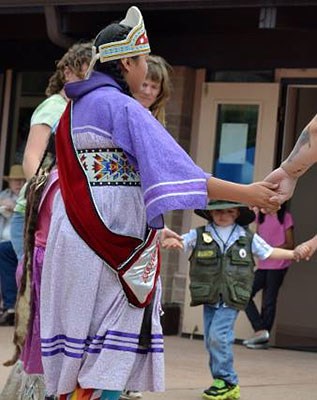 For Immediate Release: July 5, 2019
Contact: Patrick Myers, e-mail us, 719-378-6395
Jicarilla Apache Arts and Dances July 13
at Great Sand Dunes
The Jicarilla Apache have a longtime connection with Great Sand Dunes. For centuries here in this unique landscape, they have hunted, gathered, danced, and collected black magnetite sand for paintings.

On July 13, members of the tribe will share their culture through a variety of art forms during this special event. From 10:00 am – 3:00 pm, informal storytelling, crafts, and sharing will take place at the Great Sand Dunes Visitor Center. Then at 6:00 pm and 7:00 pm, the Jicarilla Apache Mundo Dancers will take the stage at the park Amphitheater for two colorful 30-minute presentations.

Regular park entrance fees are in effect, but the events themselves are free. Check the park website at www.nps.gov/grsa for current and forecast conditions, recreational activities, and other information.

This cultural event is sponsored by Friends of the Dunes. The Friends provide a forum for citizen involvement in planning decisions, focus public interest on issues and need, and provide volunteer and financial aid for projects beyond the scope of the park's budget. Visit www.greatsanddunes.org to learn more.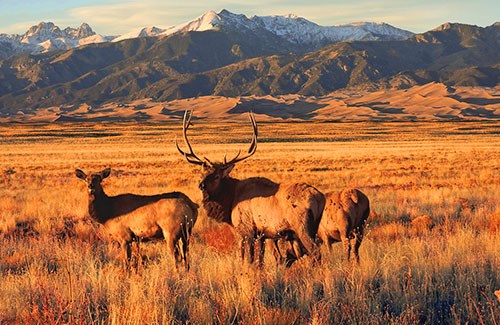 For Immediate Release: June 28, 2019
Contact: Fred Bunch, e-mail us, 719-378-6361
Great Sand Dunes National Park and Preserve Releases Updated Proposal to Manage Elk and Bison

MOSCA, Colo. – Today the National Park Service (NPS) released its Abbreviated Final Environmental Impact Statement (FEIS) for the Great Sand Dunes National Park and Preserve Ungulate Management Plan (UMP). This is a public plan
to manage elk and bison in the park. See the plan on nps.gov planning pages.

In the plan, the NPS outlines tools to alter elk distribution in the park while continuing to allow public elk hunting in the preserve. Additionally, the NPS plans on partnering with The Nature Conservancy as it assumes responsibilities of managing bison density and distribution in the park. Over the long term, the NPS will adaptively manage elk and bison to meet desired conditions for wetland ecological integrity.

"We value the contributions of our partners throughout the process, including Colorado Parks and Wildlife, US Fish and Wildlife Service, The Nature Conservancy and tribes," said Great Sand Dunes Superintendent Pamela Rice. "The National Park Service is in the unique position of working with our partners to meet mutual goals for elk and bison management and furthering the bison conservation legacy of The Nature Conservancy and the Department of the Interior. We look forward to our continued work with the public and our local, state, federal and tribal partners."

Elk and bison have long been present in the park. The elk herd in the eastern San Luis Valley has grown to more than 5,000, and The Nature Conservancy manages approximately 1,700 bison on the Medano Ranch. Historic levels of elk are leading to adverse impacts on sensitive areas of the park, including the wetland vegetation communities where the existing bison herd also spends a disproportionate amount of time. This planning effort will support the long-term protection of resources and is compatible with activities across the broader eastern San Luis Valley landscape, to the extent practicable.

For more information on the Abbreviated Final EIS, please visit the planning page listed above.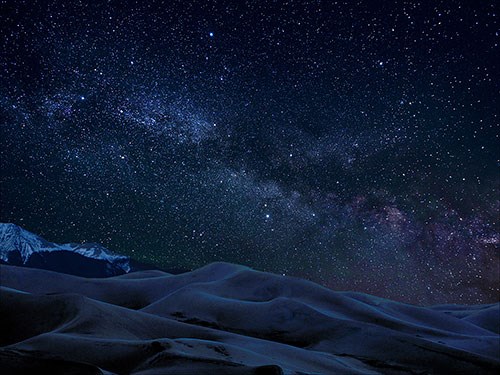 For Immediate Release – 5/9/2019
Great Sand Dunes Certified as
International Dark Sky Park

Great Sand Dunes National Park and Preserve and the International Dark-Sky Association are pleased to announce the certification of Great Sand Dunes as an International Dark Sky Park. This certification recognizes Great Sand Dunes for the exceptional quality of its dark night skies and for the park's commitment to preserving and educating about the night sky.

Great Sand Dunes joins three other national park sites in Colorado and approximately two dozen national parks around the country that have been certified as International Dark Sky Parks.

"It's no surprise that Great Sand Dunes has been building a reputation for good night sky viewing," says Great Sand Dunes Superintendent Pamela Rice, "The dry air, high elevation, and lack of light pollution all make the park an ideal dark-sky destination. We are thrilled with receiving this recognition as an International Dark Sky Park."

Great Sand Dunes National Monument was established in 1932 to protect the tallest dunes in North America. In the late 1990s, a grassroots movement worked to upgrade and expand the monument into a national park and preserve to protect the greater dunes ecosystem that was under threat at that time. The effort came to fruition in 2000 when Congress passed the Great Sand Dunes National Park and Preserve Act. Today, more than 149,164 acres of majestic dunes, wetlands, grasslands, forests, and alpine tundra offer an array of opportunities to view the night sky and to explore the park after dark by moonlight.

Due to the intervening Sangre de Cristo Mountains, which shelter the park from much of the sky glow created by Colorado's Front Range cities, Great Sand Dunes has served as an astronomy destination for decades.

"A starlit night at Great Sand Dunes can bring opportunities for wonder, perspective, and a more intimate connection with the natural world than we have in the daytime," says Park Ranger Patrick Myers. "Besides seeing countless stars, our other senses open up and we become aware of the unique sounds of owls and toads, the scent of piñon pines, and the soft feel of polished grains of sand."

Great Sand Dunes staff will host a celebration of its new certification as an International Dark Sky Park on the evening of August 24 beginning at 6pm. The park offers a variety of night sky programs on summer weekends as well as a Junior Ranger Night Explorer program.

"Great Sand Dunes has some of the darkest skies measured in the West," says Rice. "We invite you to come out and experience this treasure for yourself."

The International Dark-Sky Association advocates for the protection of the nighttime environment and dark night skies by educating policymakers and the public about night sky conservation and by promoting environmentally responsible outdoor lighting. More information about IDA and its mission may be found at DarkSky.org. Find more information about night skies in national parks. And, check our Experience the Night page to learn about nighttime exploration options at Great Sand Dunes National Park and Preserve.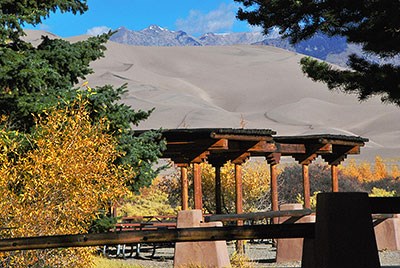 Great Sand Dunes Changes Entrance Fees to Address Infrastructure Needs & Improve Visitor Experience
This past spring, the National Park Service (NPS) announced service-wide fee increases to provide additional funding for infrastructure and maintenance needs to enhance the visitor experience. As a result, Great Sand Dunes National Park and Preserve will modify its entrance fees. Effective January 1, 2019, the entrance fees to the park will be $25 per vehicle or $20 per motorcycle. An annual park pass will cost $45.
Revenue

from entrance fees remains in the National Park Service and helps ensure a quality experience for all who visit. At Great Sand Dunes National Park and Preserve, at least 80 percent of entrance fees stay in the park for spending towards enhancing the visitor experience. We share the other 20 percent of entry fee income with other national parks for their projects.
In response to public comments on a fee proposal released in October 2017, there will be a modest increase for all entrance fee-charging parks, rather than the higher peak-season fees initially proposed for only 17 highly-visited national parks.
National parks have experienced record breaking visitation, with more than 1.5 billion visitors in the last five years.

Throughout the country, the combination of an aging infrastructure and increased visitation has put a strain on park roads, bridges, campgrounds, waterlines, bathrooms, and other visitor services and led to a $11.6 billion deferred maintenance backlog nationwide.
"Entrance fees collected at Great Sand Dunes support infrastructure projects that enhance the visitor's experience," stated Superintendent Pam Rice. "In recent years, the park has been able to use fee revenue to maintain, repair and improve our facilities, enhance essential visitor services such as events and programs, restore critical habitat for the wildlife that visitors come to see and enjoy, and to support our law enforcement rangers in their public safety duties."
The additional revenue from entrance fees at Great Sand Dunes National Park and Preserve will support the renovation of the visitor center interior exhibits, replacement of water distribution lines in the Pinon Flats Campground and the Mosca Creek Picnic Area, restoration of Rio Grande Cutthroat Trout habitat along Sand Creek, replacement of exterior doors on comfort stations and visitor center, and rehabilitation of the entrance station.
Entrance fees collected by the National Park Service totaled $199.9 million in Fiscal Year 2016. The NPS estimates that once fully implemented, the new fee structure will increase annual entrance fee revenue by about $60 million.
Great Sand Dunes National Park and Preserve has collected entrance fees since 1997. The current rate of $20 per vehicle or $15 per motorcycle has been in effect since January 1, 2018. The park is one of 117 National Park Service sites that charges an entrance fee. The other 300 national parks will remain free to enter.
The price of the annual America the Beautiful National Parks and Federal Recreational Lands Annual Pass and Lifetime Senior Pass will remain $80.
The National Park Service has a standardized entrance fee structure, composed of four groups based on park size and type. Entrance fees at Great Sand Dunes National Park and Preserve are in-line with this fee structure. Other parks not yet aligned with their category will raise their fees incrementally and fully incorporate the new entrance fee schedule by January 1, 2020.
The complete fee schedule will change according to the following:
Great Sand Dunes National Park and Preserve

Per




Vehicle

Per




Person

Per




Motorcycle

Park Specific Annual Pass

Current

$20

$10

$15

$40

Jan 1, 2019

$25

$15

$20

$45

For Immediate Release – 11/5/2018
Great Sand Dunes is Offering Business Opportunities for the Sale of Firewood and other Services within the Park
Great Sand Dunes National Park and Preserve has announced business opportunities for Firewood Sales and Incidental Visitor Services within the Park. Incidental Visitor Services include the sale of sunscreen, insect repellent, limited camping supplies and vended beverages.
This operation is seasonal in nature with the season beginning mid-May and ending mid-October. The services are to be provided for a minimum of three hours per day, five evenings a week. The hours of operation may be extended, but the schedule of operation must be consistent with the hours that the operator is required to display to the public. The schedule must include Friday, Saturday, Sunday and Monday evenings. The stocking and sale of beverages in the vending machines located in designated areas on a consistent basis is desired year round.
A Commercial Use Authorization (CUA) permit is required to provide these services at Great Sand Dunes National Park and Preserve. The fee for a CUA permit is $200. A small building located near the campground may be assigned to the CUA permit holder. The CUA permit holder will be charged a building use fee of $100 and must provide the Park with proof of commercial general and automobile liability insurance.
For the sale of vended beverages, the annual gross receipts over the past three years averaged more than $9,000. For the sale of firewood and incidental visitor items, the annual gross receipts over the past three years averaged more than $40,000. Based on attention to operational management, the potential may exist for an increase of future revenue.
The National Park Service intends to issue up to one CUA permit for vended beverage service and up to one CUA permit for the sale of firewood and limited camping supplies. The completed applications must be returned to the Park no later than 4 p.m. on January 1, 2019. For more information including proposal package requirements, contact Dale Culver at 719-378-6321 or via e-mail at
e-mail us
. Mail the application to: Great Sand Dunes National Park and Preserve, 11500 Highway 150, Mosca, CO 81146-9798.
Additional CUA information including approved business opportunities within Great Sand Dunes National Park and Preserve can be found on the Park's website:
https://www.nps.gov/grsa/getinvolved/do-business-with-us.htm
About the National Park Service: More than 20,000 National Park Service employees care for America's 409 national parks and work with communities across the nation to help preserve local history and create close-to-home recreational opportunities.
Learn more at
www.nps.gov
.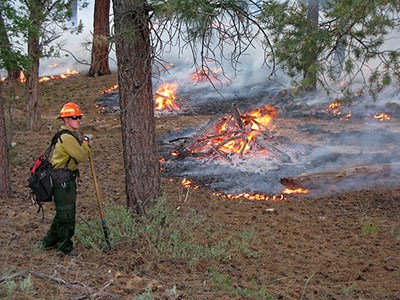 November 2, 2018
Contact: Chief Ranger, Dale Culver at (719) 378-6321
Prescribed Burning Planned at Great Sand Dunes National Park
Hazard fuel reduction will help reduce wildfire risk
Mosca, CO — The National Park Service plans to burn several piles of woody debris at Great Sand Dunes National Park and Preserve this winter. The piles will only be burned if and

when the ground and adjacent fuels are sufficiently wet from rain or snow, and these wet conditions are present until the burning is completed.
The piles consist of

dead woody material

from previous hazard fuels reduction projects. These projects reduce fuels a

round park infrastructure and park boundaries directly adjacent to the private land since this fuel load represents a wildland fire hazard within these areas.

The project will reduce the threat of fire to private homes and help protect the plants, wildlife, and important resources in the park.
The piles will be ignited by firefighters and monitored until they are completely out. Local residents and park visitors may see open flames and/or smell smoke in the vicinity of the park during the burn. The project is anticipated to be completed over the course of five days.
Prescribed fire smoke may affect your health. For more information see
https://www.colorado.gov/pacific/cdphe/wood-smoke-and-health
.
For more information on the National Park Service Wildland Fire Management Program, visit http://www.nps.gov/fire. To learn how you can reduce wildfire risk on your own property, please visit http://www.firewise.org. For information about the national park visit our website, http://www.nps.gov/grsa, or follow us on Facebook (https://www.facebook.com/Great Sand Dunes NPP).
For more information regarding the prescribed burn, contact Chief Ranger, Dale Culver at 719-378-6321.
-NPS-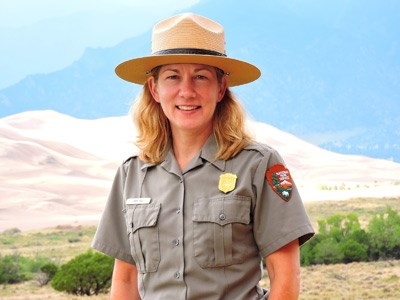 New Superintendent Arrives at Great Sand Dunes

Pamela Rice, a veteran National Park Service (NPS) manager, has been named superintendent of Great Sand Dunes National Park & Preserve by Sue Masica, director of the NPS Intermountain Region. Rice, formerly an assistant superintendent at Glen Canyon National Recreation Area in Arizona and Utah, has already begun her new duties at Great Sand Dunes.

"Pam's collaborative leadership style, strong communication skills and experience working with park partners, tribes and elected officials make her a great addition to our Great Sand Dunes team," Masica said.

Rice was assistant superintendent for external affairs at Glen Canyon and Rainbow Bridge National Monument. Her work there included forging a partnership with Page, AZ to manage the heavily visited Horseshoe Bend area and an agreement with air tour operators to manage flights near Rainbow Bridge and other park sites sacred to American Indian tribes.

In 2017, Rice served four months as acting superintendent of Capitol Reef National Park in Utah. She also was acting superintendent of Kenai Fjords National Park for four months in 2013.

"I am honored and thrilled to have the opportunity to work at Great Sand Dunes," she said. The park offers such a diversity of recreational opportunities and resources. I look forward to exploring Great Sand Dunes, and to working closely with the local communities, partners, staff, and volunteers in the stewardship of this amazing park."

Rice joined the NPS in 2007 as an interpretive ranger in Alaska, where she had worked for several years for the Bureau of Land Management. She was chief of Interpretation for Gates of the Arctic National Park and Preserve and Yukon-Charley Rivers National Preserve from 2009 to 2015. She then worked two years in legislative affairs in Washington, DC as an NPS Bevinetto Congressional Fellow.

Rice has a bachelor's degree in wildlife and fisheries sciences from Texas A&M University and two master's degrees – in interpretation and environmental education from the University of Alaska Fairbanks and in cross-cultural studies and leadership from Concordia University in St. Paul, MN.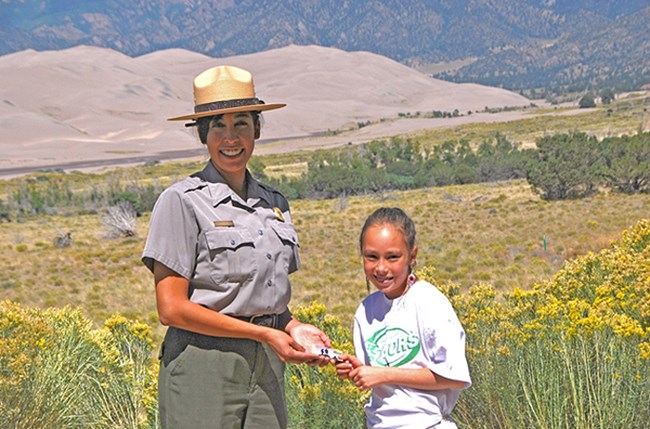 Great Sand Dunes Welcomes 4th Grade Students through "Every Kid in a Park"
National Program Encourages Families and Classes to Visit National Parks
Great Sand Dunes invites all 4th grade students to visit the park for free as part of the "Every Kid in a Park" program. Fourth grade students can visit www.everykidinapark.gov to complete an activity and obtain a voucher. Bring your voucher to a National Park Service site and exchange it for a free annual entry pass to more than 2,000 federal recreation areas, including national park units, wildlife refuge areas, and US national forests! View full press release (pdf) >

Find us on Facebook for news about the natural world of the park, tips for visiting, the newest photos of each season and wildlife, visitor posts, interactive visitor questions with rangers, and more!


Last updated: July 5, 2019